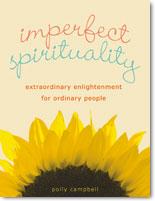 Imperfect Spirituality
Extraordinary Enlightenment for Ordinary People
by Polly Campbell
isbn 978-1-936740-18-5
Pub. date 11/13/12
Description: Pulling a raisin out of a two-year-old's nose probably wasn't on Buddha's path to enlightenment, but it was an aha! moment for author Polly Campbell. In Imperfect Spirituality, Campbell shows you how to integrate those everyday moments with traditional spiritual techniques to increase your personal growth and well-being. Imperfect Spirituality is filled with practical tips and dozens of examples that will encourage you to amp up your optimism, let go of worry, and embrace your authentic self to offer your true gifts to the world.
Imperfect Spirituality is an uplifting breath of fresh air!
The book isn't religious, so can be enjoyed by those who are religious and those who are not. It can enhance life experiences for all by shifting to an enlightened and optimistic way of living.
The author is humorous and entertaining. She is also wise and practical. Here are a few of the things you'll learn as you read:
Accept imperfection and become an optimalist
Direct compassion toward yourself
Make your day with morning rituals
Turn off the inner chatter of self-sabotage
Her whole attitude is refreshing. We don't need to be perfect and we don't need to judge others. Compassion and positive attitudes are beneficial for us and the people we come across  on the path of life.
Enter daily through the Rafflecopter form below: