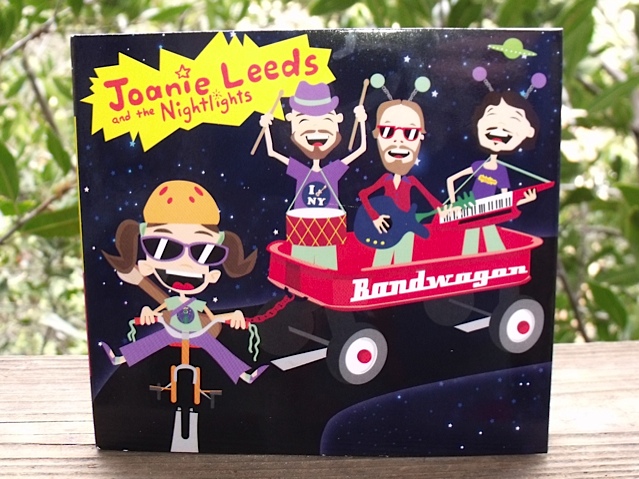 Joanie Leeds and the Nightlights are a children's band that knows how to have fun! The music is joyful and oozing with positive energy.
Joanie had a love for music and performing when she was a very little girl. As an adult she studied music theater at Syracuse University and then performed as a singer songwriter in clubs throughout New York. It was when she began working with children as a manager at a Manhattan Gymboree that she discovered her passion for engaging and entertaining kids with music.
Joanie Leeds & the Nightlights
Bandwagon CD
Release date 6/25/13
Bandwagon is an energetic CD for kids ages 2-9. Little ones will enjoy the happy feelings it evokes and bigger kids won't think it's "babyish." The music spans a broad age range.
The musical styles are varied – blues, country rock, funk and more. Each song has a distinct sound. The positive sounds and messages give it a cohesive feel.
There are 15 tracks and lyrics are included:
Are We There Yet?

Back To School
Bandwagon
I Love New York
UFO
Family Tree
Nutritious
Helmet
Use Your Words
Little Cloud
Falling
Let's Go
Canon Song
Bed
Nightlights
Joanie often performs in New York and other nearby states. I think it's a safe guess that her live shows are lots of fun!
CONNECT – You can like them on Facebook and follow them on Twitter.
Enter daily through the Rafflecopter form below: