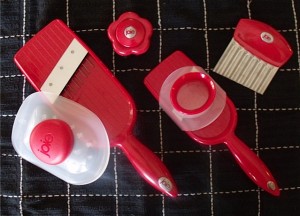 These fabulous kitchen gadgets help make food preparation and meal time extra fun! They make it easy to turn an ordinary meal into something special. You don't have to have special training or even be especially skilled to get good results with these tools.
Joie Shop has the usuals and some more unique tools. There are solid colors and gadgets featuring cute novelty characters. I'm working on a more cohesive look for my kitchen, so I chose red tools to match my color scheme. If you like cute, you may want to choose novelty items featuring pigs, cows, penguins, roosters and devils.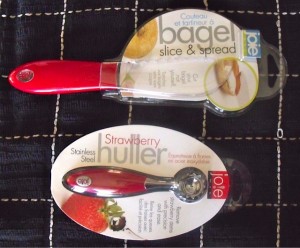 Here are a few of the fun "toys" I got to try out:
Bagel Knife – Serrated for slicing on one edge and smooth for spreading on the other
Strawberry Huller – Stainless steel tool that quickly removes just the stem, so you don't waste the edible berry.
Flower Power Decorative cutter – Works kind of like a cooker cutter, but the sides are tall and the knob in the center pulls up and then down to push your little flower right out.
Joie Slicer with guard – Easy to use handheld mandoline slicer. It's quick and easy to get perfectly even slices. The hand guard offers nice protection, so I don't worry about accidentally slicing myself.
French Fry Cutter– This one has a safety guard, too. It makes beautiful regular french fries or sweet potato fries.
Wavy Knife – Can be used for vegetables, cheese and more. Just push down for a fun and wavy cut.
All of the products are made very well. The quality is excellent, so I expect them to last for a long time. The rounded edges and curved grips make them very comfortable to use – even if you're preparing food for a hungry crowd.
My favorite 2 tools are the Wavy Knife and Flower Power Cutter. They are so simple to use. It doesn't take any longer to cut up vegetables with the Wavy Knife as it does with a regular knife, but it's so much more fun to serve and eat vegetables with a wavy cut. They look great and make foods feel more special.
Joie Shop kitchen tools and gadgets are wonderful!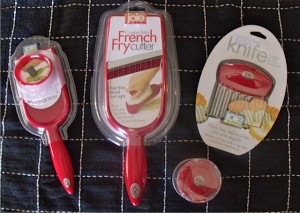 HOW TO CONNECT – You can like Joie Shop on Facebook and follow them on Twitter.
Enter daily through the Rafflecopter form below: