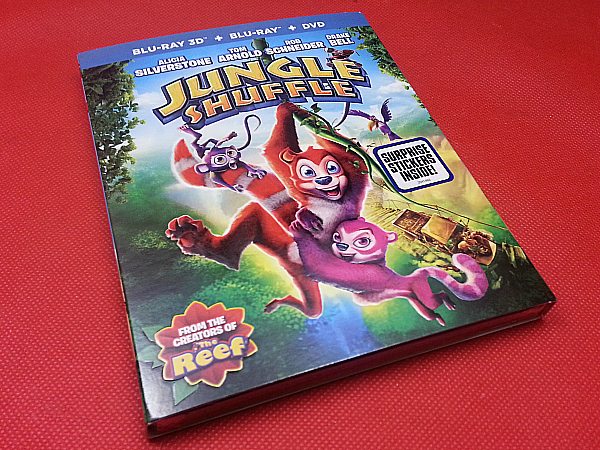 Has your family seen Jungle Shuffle?
I love animated movies that feature humanized animals, humor, action, music and good life lessons. Jungle Shuffle has all that.
The movie is made by the same folks who created The Reef. Kids and adults will recognize the familiar voices of the talented actors who skillfully portray these fun hilarious characters – Alicia Silverstone, Tom Arnold, Rob Schneider and Drake Bell.
This is the kind of movie that will entertain your little kids and the adults in the house. The movie is not rated, but is what I would call similar to other family movies in this genre. The story is good entertainment and the message is positive.
The reasonably priced 2 disc set includes blu-ray, blu-ray 3D and DVD. They've even added a bonus gift of a sheet of stickers inside the package.
Jungle Shuffle

Not Rated
Release date 3/10/15
Synopsis: "Fun for the whole family, Jungle Shuffle follows the adventures of two young raccoons in love, Manu and Sacha, a mischievous troublemaker and the princess of the raccoon empire. After Manu's frolicsome behavior becomes destructive and he accidentally destroys the tribe's worshipped statue, he is banished by the king, Sacha's father. When human hunters kidnap Sacha a year later, Manu sets out on an exhilarating journey to save the princess and redeem himself with the tribe."
Enter daily through the Rafflecopter giveaway form below: