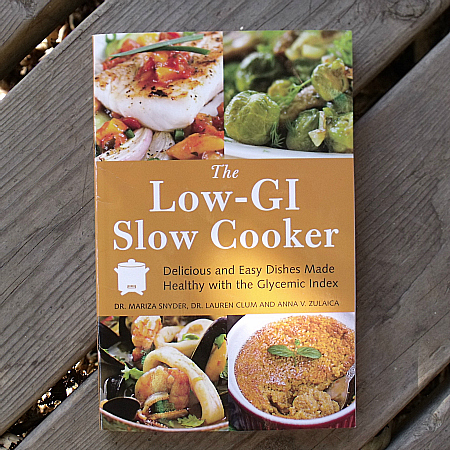 All of us need to pay attention and make good choices about the foods that we eat. It's so easy to load up on the unhealthy choices that surround us. When you have a medical condition or are at risk for developing one, it's critical that you fill your body with good stuff.
Eating healthy foods doesn't need to be difficult, but it does require some thought. This book can help educate you about the glycemic index and teach you how to prepare healthy meals easily with a slow cooker.
The Low GI Slow Cooker

Delicious and Easy Dishes Made Healthy with the Glycemic Index
By Dr. Mariza Snyder, Dr. Lauren Clum and Anna Zulaica
isbn 978-1-61243-180-2
Pub. date 6/25/13
Description: "Cooking dishes that score low on the Glycemic Index has never been easier—or more delicious. Make the recipes in this book by simply mixing the ingredients, tossing them into your slow cooker and coming back later to a ready-made meal. If you want to get healthy and lose weight, while also lowering your risk of diabetes and heart disease, the recipes in this book are perfect for you. They minimize cholesterol and blood sugar reactions as well as the stress of cooking."
The recipes are not meant to look or taste like "diet food." They are designed to satisfy without compromising your health.
Each recipe includes an ingredient list, nutritional information and simple instructions that will be easy for even a novice cook to follow. Nothing is complex. Once you've combined the ingredients, your slow cooker can get the job done with minimal effort on your part.
Here are a few recipes that may not sound like they would have a low glycemic index, but they do!
Cheesy Broccoli Gratin

French Toast Casserole
Vegetable Frittata
Berry Cobbler
Chocolate Peanut Butter Custard
This is a fun cookbook that makes it easy to pay attention to your health!
CONNECT – You can like Ulysses Press on Facebook and follow them on Twitter.
Enter daily through the Rafflecopter form below: