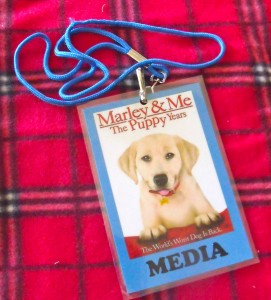 Marley & Me
The Puppy Years
Available exclusively at Walmart, Sam's Club and Walmart.com
Release date 8/16/11
Synopsis: One loveable canine goes on a magical new adventure for the entire family in MARLEY & ME:THE PUPPY YEARS, cuddling up on Blu-ray and DVD August 16 from Twentieth Century Fox Home Entertainment. Filmed on location in beautiful Vancouver, British Columbia by acclaimed director Michael Damian (Flicka 2, Moondance Alexander), this touching side story to the original $240 million global box office smash Marley & Me introduces us to Marley as the lovable pint-sized pup.
Fall into puppy love with "the world's worst dog," who now has a frisky voice and an attitude to match. Join Marley for his mischievous puppy years, as he and his summer pal, Bodie Grogan, wreak havoc on a neighborhood dog contest. Marley outwits Dobermans, Shepherds and Collies, while stealing hearts in his own unique and lovable way. Get your paws on MARLEY & ME: THE PUPPY YEARS and fetch big laughs for the whole family!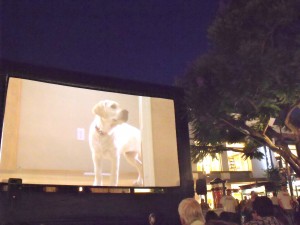 Over the weekend I attended a fun event and screening for this new 20th Century Fox movie. It was held at The Grove in Los Angeles. There were lots of dogs in attendance for the afternoon events and the nighttime outdoor movie screening. There was fun for all ages!
I got to photograph and speak with the director and canine and human stars on the red carpet. The dogs were adorable! After attempting to photograph these active pups on the red carpet without getting leashes or their handlers legs in the pictures, I have even more respect for the professionals who made this movie. The dogs are very well trained, but I'm sure it was still difficult to film them.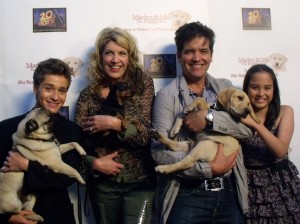 The Director (Michael Damian, who you may recognize from his many years on The Young and the Restless) was very personable and enjoyed the fun and challenges of making a movie with dogs and children. Brodie (Travis Turner) had fun making the movie and hanging out with his canine co-stars. Lauren Lavoie is the voice actor for the very cute Fuschia. I expect we'll be hearing more from her!
The movie is fun for kids and adults. The scenes with the dentures and the goggles make me laugh every time I think of them!
HOW TO CONNECT – You can like Marley & Me on Facebook.
PHOTOS – More photos from the event can be found in my Marley & Me Facebook Album.