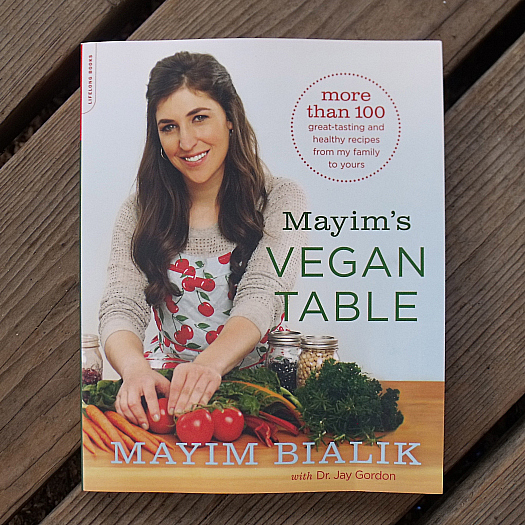 Mayim Bialik certainly has been busy. She charmed us as a child as Blossom on TV and currently makes us laugh in the Big Bang Theory. Along the way, she also got a PhD in neuroscience and learned a thing or two about raising children in a vegan household.
In this modern age, it can be hard to get your kids to stick to a healthy, balanced diet. When you are a vegan, it can be even more difficult and time consuming to keep your kids happy and satisfied. Whether you are committed to a full vegan lifestyle, are looking to reduce the amount of animal products you consume or just want some new healthy and nutritious meals to try, this recipe book can help.
Mayim's Vegan Table includes over 100 plant-based recipes for families to enjoy. They are designed to be balanced, so that your body won't feel like it's missing out on something. Being vegan doesn't just mean cutting out animal products – it also means you need to get the proper nutritional balance without those things that you are avoiding.
In addition to the recipes, there is helpful information about plant-based diets along with tips for stocking your pantry, planning meals and eating out.
Mayim's Vegan Table

More than 100 Great-Tasting and Healthy Recipes from My Family to Yours Paperback
by Mayim Bialik
isbn 978-0738217048
Pub. date 2/11/14
Description: "While she's an actress with a PhD in neuroscience, at the end of the day Mayim Bialik is a mom, one who knows what it's like to be a busy parent with little time to spend in the kitchen. She shares the concerns of parents everywhere: when it comes to nutrition and feeding your family, you want healthy meals, but also food that everyone—kids and parents—can enjoy, and a balanced lifestyle that's inexpensive and fuss-free. "
Here are a few of the family friendly vegan recipes that look good to me:
Butternut Squash Soup

Hummus
Creamy Enchilada Casserole
Creamed Corn Bread
Chocolate Chip Pumpkin Cookies
Enter daily through the Rafflecopter form below: