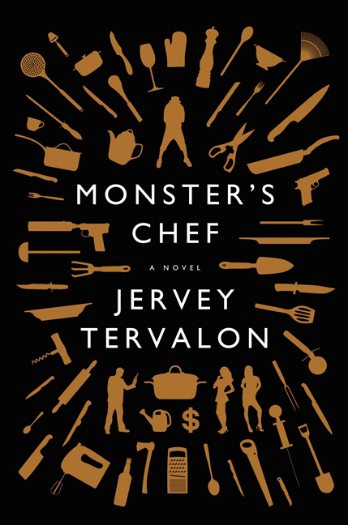 Jervey Tervalon has authored several fictional novels and even a couple of nonfiction works. This was my first time to read his work.
Monster's Chef is an interesting mix. It feels a bit like a horror movie, where the stage is being set and you know something bad is going to happen but don't know exactly what. Monster is name that a very strange and very wealthy celebrity prefers to be called. He appears to be modeled a bit after Michael Jackson, but the story and details are fabricated.
Gibson is a disgraced chef fresh out of rehab who is hired to live and work at the remote Monster's Lair (estate). There are even some actual recipes between chapters.
And then …. a dead body is found.
I didn't particularly like or identify with any of the characters, but somehow had to keep reading to see how the story pulls together. This is a quick read and is an a interesting escape from reality.
Monster's Chef

A Novel
by Jervey Tervalon
isbn 978-0062316202
Pub. date 6/10/14
Description: "Once upon a time, Gibson was a successful chef with a popular restaurant and a beautiful loving wife. He was also a drug addict with a habit that nearly destroyed him. Fresh out of rehab, he's now using his skills to feed his fellow halfway house residents budget gourmet meals—a talent that attracts two shady women who offer him a job cooking for a music superstar named Monster. Though Gibson doesn't have a good feeling about his seeming good fortune, he needs a job. Arriving on Monster's compound, Gibson senses that trouble is still on his tail. First, he's asked to sign a confidentiality agreement. Then he meets the compound's gardener, who warns him not to go outside at night—and tells him that to stay alive he must see nothing, hear nothing, say nothing."
Enter daily through the Rafflecopter form below: