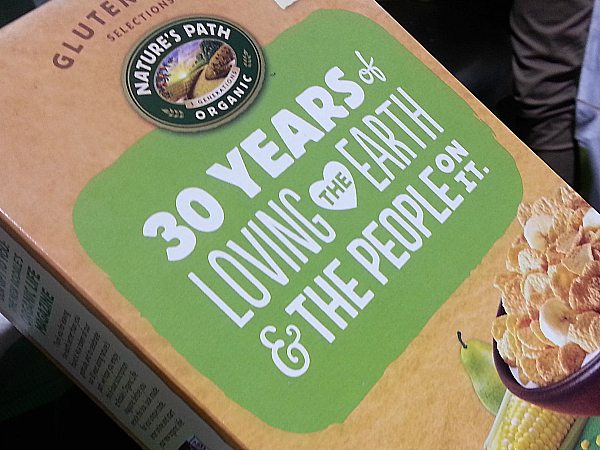 Happy 30th Anniversary to Nature's Path!
This family owned business is proof that it's possible to be successful while putting people and planet first. The Stephens' family is optimistic and committed to their goal of leaving the planet better than they found it.

Nature's Path makes delicious breakfast food with dual certification. You'll see both USDA Certified Organic and Non-GMO Project Verified labels on their packaging. Their bottom line is not just about money. Their goal is threefold: to be socially responsible, environmentally sustainable and financially viable.
They believe in fair trade and the consumer's right to know. They partner with organic farmers and donate to urban farms and other charitable organizations.

In 2012, they introduced their delicious Qi'a Superfood Cereal. Last year they added Qi'a Oatmeal and this year there are new Qi'a bars. Of course, they are gluten free and vegan.
The new bars were introduced at Natural Products Expo West this year. You can expect to see them rolling out in retail stores soon.
The Qi'a bars are a delicious blend of chia, hemp and coconut. They are packed full of nutrition and flavor. The bars are good for a quick meal on the go or as an energizing snack.
There are five different flavor varieties:
Roasted Peanut Dark Chocolate
Mocha Cocoa Hazelnut
Blueberry Cashew Pumpkin Seed
Dark Chocolate Cranberry Almond
Nuts and Seeds and Sea Salt

I got to sample the Dark Chocolate Cranberry Almond and it was delicious. The bar is moist and the texture with all the bits and pieces is nice. All the flavors sound good, but I'm especially looking forward to finding the Mocha Cocoa Hazelnut when they are available at my grocery store.
Which one of these new Qi'a Superfood Bars do you think you'll like the best?

SOCIAL MEDIA – You can connect with Nature's Path on Facebook and Twitter.
Enter daily through the Rafflecopter giveaway form below: