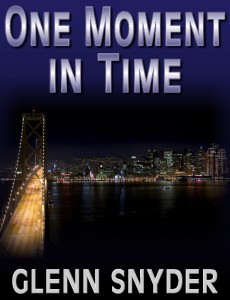 One Moment in Time
by Glenn Snyder
isbn 978-0615546605
Pub. date 2/23/12
Description: On a stormy November evening, Jack Barrett had plans to treat his best friend Travis to a night of fine dining and jazz. As they neared their destination, a truck ran a red light, plowing through Jack's car, and changing his life forever. Jack found a new outlook on life, and took on adventures that made him one of the world's most admired people. With each step, Jack grew as a person and a leader; piecing together a family from different corners of the world, while risking himself and his family to save others. Jack's impact on the world was like no other, but in the end, when the lights and the cameras were gone, Jack was about to die, or was he? 
The author says that the basics for the book came to him in a dream – a dream that was vivid and clear after he woke up. He then began to write. The novel and all of it's details flow as if this was a story that was meant to be written.
The characters are interesting and feel very real, as if I know them or people like them. The story is an interesting for the international politics and adventure. It's also a novel that will make you think about life and why we are all here.
One Moment in Time is fun and thought provoking.
Enter daily through the Rafflecopter form below: