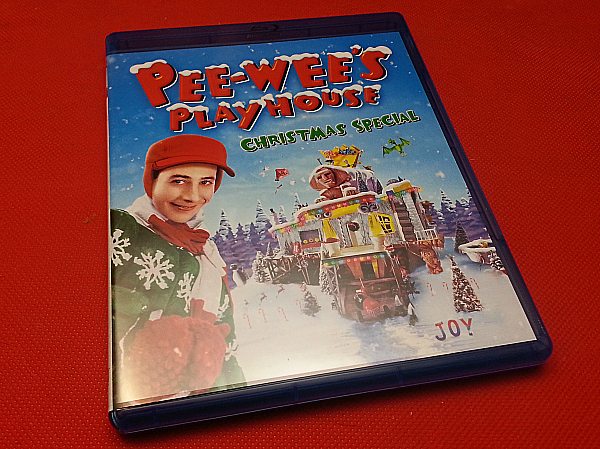 Mecka-lecka hi, Mecka-hiney ho!
I was in college when Pee-wee's Big Adventure first came out in movie theaters. Not sure how many times I saw it when it was first released, but it was enough that my friends and I regularly laughed as his catch phrases were thrown into everyday conversations.
Then when Pee-wee's Playhouse began it's run as a Saturday morning TV show, I still watched it regularly as a young adult. When I had kids of my own, we enjoyed watching it together and I still have my old VHS tape of the Christmas Special. I'm pretty sure that I've watched the special every holiday season for the last 2 decades.
Yes, I was excited to learn that Pee-wee's Playhouse Christmas Special has now been restored and remastered in beautiful high definition. The characters and all of the intricate details of the quirky decor inside the playhouse seem to come to life and just pop off the screen. It is fantastic!
Guest stars who pop in for the holiday celebration include Oprah, Charo, Whoopi, Zsa Zsa and others.
I love this show! It's great for adults like me who like to take a walk down memory lane and it's full of fun for a whole new generation of kids. Pee-wee is a classic!
Pee-Wee's Playhouse

Christmas Special
Shout Factory
Release date 10/6/15
Synopsis: "Join the whole Playhouse gang for one of the wackiest specials ever! With laughs for the whole family, this unique, triple Emmy-nominated special offers all the imagination and charm of Saturday morning's most outrageous TV series, which became a cultural milestone when it aired from 1986-1991. Pee-wee gets into the spirit of the season with lots of singing, dancing and other holiday fun with his Playhouse pals and more than a dozen celebrity guest stars as you've never seen them before. Everything is going great for Pee-wee…until his Christmas wish list becomes so long that there won't be enough presents for all the other kids in the world! When Santa Clause pleads for help, Pee-wee reluctantly learns a lesson about the true meaning of Christmas."
SOCIAL MEDIA – You can connect with Shout Factory! on Facebook and Twitter.
Enter daily through the Rafflecopter giveaway form below: