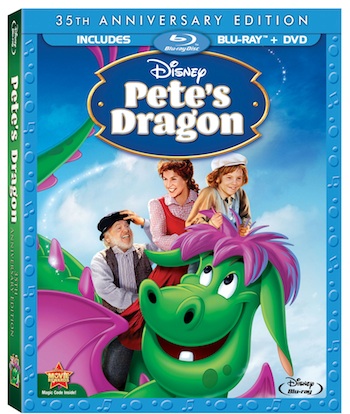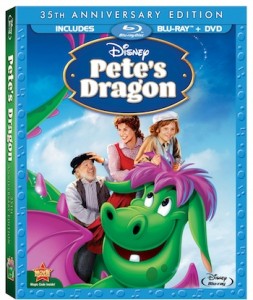 Pete's Dragon
35th Anniversary Edition
Blu-ray + DVD 2 Disc Set
Walt Disney Studios Home Entertainment
Rated G
Release date 10/16/12
Synopsis: "Rediscover with your family the endearing story between Pete and his invisible dragon friend Elliott as they develop a special bond and share a magical friendship. With memorable characters and heartwarming songs including the 1977 Academy Award® "Best Original Song" nominee, "Candle On The Water," Pete's Dragon 35th Anniversary is the perfect timeless classic every member of your family will love."
This movie brings back so many happy memories! I remember how much I loved it back in the day and am happy it's been digitally restored, so that a new generation can enjoy it.
Pete's Dragon combines real life action with animation. Obviously, technology was very different in the 1970's than it is now, so this isn't high tech by today's standards. It is, however, a classic and wonderful family film.
Like most of the Disney films I remember from my childhood, Pete's Dragon is full of imagination. The movie is fun to watch, but it goes beyond "just watching." Pete's Dragon will get your kids dreaming and imagining what it would be like to have an invisible dragon friend of their own.
The 35th Anniversary Combo is excellent for adults who want to bring back childhood memories and for kids who enjoy using their imaginations.
Enter daily through the Rafflecopter form below: