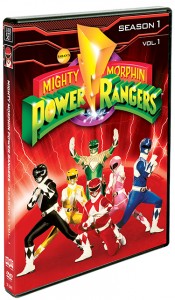 Mighty Morphin Power Rangers
Season 1, Volume 1
3 Disc Set
Shout Factory
Release date 8/21/12
Synopsis: "After 10,000 years of imprisonment, the evil sorceress Rita Repulsa and her loyal minions are freed when astronauts on a routine mission in space accidentally open her dumpster prison on the Moon. Filled with rage, Rita decides to conquer the nearest planet: Earth. But her archnemesis, the heroic sage Zordon, has been patiently waiting in preparation for this day. With the assistance of his wisecracking robotic sidekick Alpha 5, Zordon recruits a team of five teenagers with attitude (Jason, Zack, Kimberly, Billy and Trini) to receive superpowers beyond their wildest dreams so they can defend the Earth as the Mighty Morphin Power Rangers. Aided by giant robotic vehicles modeled after dinosaurs called Zords, the Power Rangers fight back against the evil alien hordes of Rita Repulsa. The start of the Power Rangers phenomenon!"
Well, it's about time!
This is the season that started it all. The first 30 episodes of Season one are now available on DVD.
Yes, in my opinion, the acting and story lines are oh so very cheesy. And that is exactly what gives this show it's appeal.
Mighty Morphin Power Rangers are great fun for kids and for adults who still enjoy the program just like they did when they were kids.
The DVD set will keep you busy for a long time. There are about 10 hours on these 3 discs. I didn't remember any specific episodes from back in the day, but I did remember the overall feel of the show. I can remember neighborhood kids practicing their moves and wearing their Power Rangers costumes even if it wasn't Halloween.
Mighty Morphin Power Rangers Season 1 Volume 1 is a great collectors item for kids and older fans.
HOW TO CONNECT – You can like Power Rangers on Facebook.
Enter daily through the Rafflecopter form below: