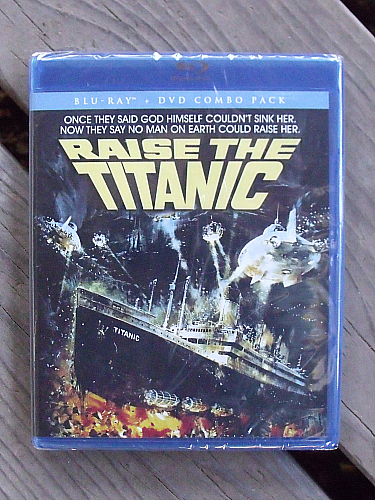 Do you remember Raise the Titanic? This feature film was originally released in 1980 and has now been brought back to life on Blu-ray and DVD. It is completely different than the more recent Titanic starring Leonardo DiCaprio and Kate Winslet.
Raise the Titanic is based on a novel by Clive Cussler. It takes place in modern times. A rare mineral is needed for military purposes and the only place this mineral happens to exist is onboard the sunken Titanic.
This is an adventure movie that isn't trying to be historically accurate. It is purely for entertainment. I had completely forgotten about this movie, but now remember seeing it back in the day. It isn't a masterpiece by today's standards, but I found it to be fabulously fun in a cheesy, retro sort of way. I thoroughly enjoyed it!
Raise The Titanic

Blu-ray DVD Combo
Rated PG
Release date 1/21/14
Synopsis: "Join the underwater race to salvage the Titanic and its vital defense cargo. Adapted from Clive Cussler's international best-seller, the story follows the exploits of American special agent Dirk Pitt as he sets out to recover vital material from the Titanic which could make the US impregnable to atomic attack. The ship is down too deep for divers and the only solution is to raise it. The incredible project must be managed in absolute secrecy because of deadly interference from a rival nation."
Enter daily through the Rafflecopter form below: