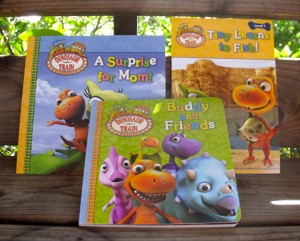 Dinosaur Train
Hooray for Dinosaur Train!  This PBS program from The Jim Henson Company is great entertainment. And … your kids will also learn social and academic skills.
They've got some great books featuring Buddy, Tiny and other favorite Dinosaur Train Characters.
Buddy and Friends –

Join Buddy as he travels aboard the DINOSAUR TRAIN to introduce kids to some of his friend

s.
A Surprise for Mom –

Follows Buddy and his siblings as they begin to plan something special for Mrs. Pteranodon on her special day.

Tiny Learns to Fish –

The first reader in the Dinosaur Train program follows Mr. Pteranodon as he takes the kids to the big pond to teach them how to fish. There's just one problem. Tiny can't catch a fish, and Buddy can't fly, so they team up to catch fish together!
All three of the books really do capture the Dinosaur Train spirit. The illustrations and text are true to the show, so each one feels familiar and fun.
Buddy and Friends is a simple board book that very small children will enjoy. Older siblings may also have fun reading it to a young child. A Surprise for Mom had more of a story line and is fun for a parent to read to a child who has a little bit longer attention span. Tiny Learns to Fish is great for kids who are learning to read on their own.
HOW TO CONNECT – You can like The Jim Henson Company on Facebook and follow them on Twitter.
Disclaimer/Disclosure: Review sample provided to me.