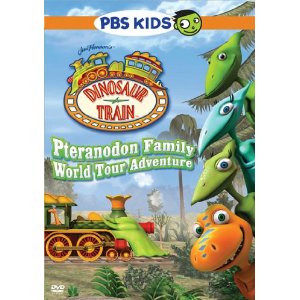 Dinosaur Train
Pteranadon Family World Tour Adventure DVD
PBS Kids/Jim Henson
Release date 3/15/11
Description: Get on board the Dinosaur Train with Buddy, a Tyrannosaurus Rex, and his adoptive family of Pteranodons as they embark on a roaring, exploring world tour adventure to discover a variety of dinosaurs inhabiting the globe as they journey to Asia, Europe and Africa.
This is such a cute dvd. It's got that Jim Henson style, but still feels different than his other features.
The dvd is long – about 100 minutes of fun. There are 8 entertaining episodes:
Pteranodon Family World Tour
Gilbert the Junior Conductor
Confuciusoris Says
Tiny's Tiny Doll
Iggy Iguanadon
Shiny Can't Sleep
Kenny Kentrosaurus
Don and the Troodons
The dvd also includes extra activities including games and coloring pages. The show is entertainment, but there's also a lot of learning going on.
Each of the episodes is cute, but I think the favorite here is Iggy Iguanadon.
It's recommended for ages 3-6. Younger children will definitely enjoy it, too. Educationally speaking, kids over 6 will probably be beyond this, but will still be entertained by it.
HOW TO CONNECT – You can like The Jim Henson Company on Facebook and follow them on Twitter.
WHERE TO BUY – You can buy the new Dinosaur Train DVD on Amazon.
Disclaimer/Disclosure: Review sample provided to me.