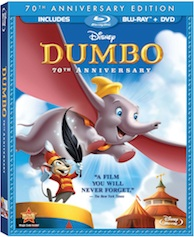 Dumbo
70th Anniversary Edition
2-Disc Blu-ray Hi-Def & DVD Combo Pack
Release date 9/20/11
Synopsis:  In celebration of this landmark film's 70th anniversary, experience the daring adventures of the world's only flying elephant with a dazzling all-new digital restoration and brilliant Disney Enhanced High Definition Theatre Mix Sound.  The inspirational tale of Dumbo, the courageous baby elephant who uses his sensational ears to soar to fame with the help of his clever best friend Timothy Q. Mouse, will thrill and delight audiences of all ages.  And now, the award-winning music and empowering messages about friendship and belief In yourself reach new heights in this must-have Blu-ray high-definition presentation of Walt Disney's classic Dumbo!
I knew Dumbo had been around for a long time, but had no idea it had been 70 years.  I remember seeing it in a theater when I was young and assumed it had been new at that time, but that was nowhere near 70 years ago. Dumbo is definitely a classic.
The picture and sound quality of both the DVD and Blu-ray versions is amazing. It's a big improvement over the special collector's edition VHS that I got years ago. The technology and skills that were needed to restore this film are quite impressive.
Dumbo is rated G, but I was a sensitive kid and some of it was too intense for me when I was little. I really liked the happy parts of the movie, but there are sad and scary parts.
It's fun to see the movie again and all the bonus features are definitely a plus. There are different features on the DVD disc and the Blu-ray. I like the extras on the DVD that show the history of the film and the Dumbo ride at Disneyland. the Blu-ray has some fun interactive games and some animated shorts.
Dumbo is fun for kids to experience for the first time and it's a fun walk down memory lane for adults who grew up with Dumbo!
HOW TO CONNECT – You can like Dumbo on Facebook.
Disclaimer/Disclosure: Review sample provided to me.