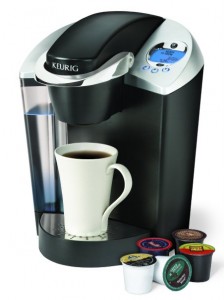 Keurig Special Edition Brewing System
About: The Keurig brewing system offers gourmet coffee drinkers a top quality, coffee house cup of coffee with the convenience of brewing immediately in your own kitchen. The Keurig brewer makes a fine cup of coffee in under a minute and takes away all the guesswork from brewing a consistently great cup of coffee.
Ohhhh Keurig, how I love thee … easy, fast and excellent flavor each and every time!
This beautiful Special Edition Brewing System will change the way you look at home brewed coffee.
There are several different Keurig models available for home brewing. If you're tight on space the Mini Plus may be a good choice for you. But.. if you want some extra features, I would recommend the Special Edition. Here are some of the highlights:
Three brew size choices (6, 8 or 10 ounce)

Removable 48 ounce water reservoir

Programmable LCD Message Center

Removable Drip Tray

Blue Backlit LCD & Water Reservoir

Chrome Accents

Quiet Brew Technology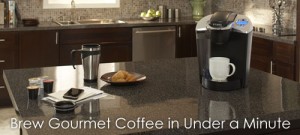 First… the coffee tastes great. So the way this machine does it's magic is wonderful – each and every time. And if it weren't good coffee, nothing else would matter.
Keurig machines use K-Cups – little pre-filled cups of just the right amount of coffee, or tea or cocoa. The varieties available seem endless. And it feels like I have my own little coffee shop at home. My family, friends and I can each have our own perfect brew instead of making a full pot of something that not everyone wants.
I usually choose simple, low-end small appliances. The basic cheap version microwave/toaster/blender/etc with no bells and whistles is perfectly fine for non-techy me.
But for coffee…..
I NEED MY KEURIG!
HOW TO CONNECT – You can like Keurig on Facebook and subscribe to their newsletter.
DEAL ALERT – When you purchase directly from Keurig, you can get free ground shipping when you spend $45+
Disclaimer/Disclosure: Sample provided to me. No monetary compensation was received.