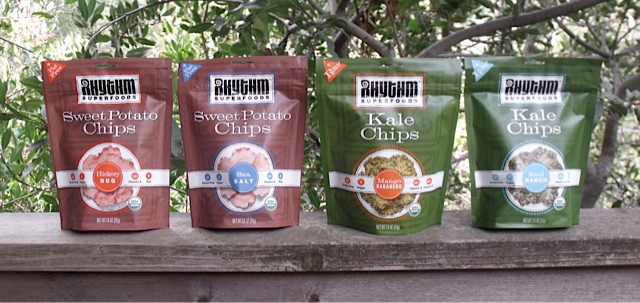 About: Being on the forefront of the healthy food movement, Rhythm Superfoods is on a quest to change the world one snack at a time. Our snacks are made from the highest quality organic fruits, vegetables, nuts, seeds and spices which are always minimally processed for maximum nutrition and deliciousness. Each product is made to feed the body, mind and soul.
Rhythm Superfoods are fun and tasty. They are similar to other vegetable snacks, but are most definitely unique.
Their Kale and Sweet Potato Chips are:
Raw
Vegan
Gluten Free
All Natural
Local and Organic
Since they are raw, there is no oil like you'll find in other chips and the natural nutrients of the veggies haven't been cooked out of the chips. They are air crisped so the good flavor of the veggies shines right through.
There are a variety of flavors available. It's kind of like salad dressing, but is dried with the veggies to give them extra flavor.
Kale – Zesty Nacho
Kale – Kool Ranch
Kale – Bombay Curry
Kale – Mango Habanero
Kale – Texas BBQ
Sweet Potato – Sea Salt
Sweet Potato  – Hickory BBQ
My favorites to eat right out of the bag are the Sea Salt Sweet Potato Chips. They're light and crispy. The salt enhances the natural flavor and isn't at all overpowering.
The Kool Ranch Kale is another favorite here. It's kind of like eating a crunchy, dried salad! They are good for snacking or you can use them in recipes or as a flavorful topping for other dishes.
HOW TO CONNECT – You can like them on Facebook and follow them on Twitter.
Disclaimer/Disclosure: Review sample provided to me.