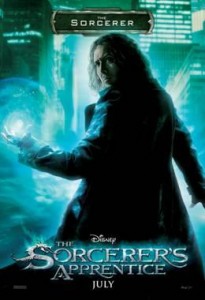 The Sorcerer's Apprentice
Walt Disney Pictures and Jerry Bruckheimer Films
Rated PG
US Release Date 7/14/10
Fantastic movie!!!
I haven't seen a movie in a theater in a long time – usually just wait until they are out on DVD and then watch them at home. This is a movie that is definitely good to see in the theater. The action and effects are amazing on a large screen and with theater quality sound.
Since I only read the description of the movie ahead of time and didn't watch the previews, I didn't really know what to expect. I thought that I would like Nicolas Cage's character (I did!) and I thought it would be ok for 'grown ups' but more for the kids. But it was more than OK for the grown ups. I absolutely loved it and so did the other adults that I was with.
The action was fantastic. There was a very interesting blend of science, magic, humor and thought provoking ideas with some good lessons thrown in. And I think it's fabulous that the physics nerd ends up being such a stud – yes, brains are sexy ;)
The action is intense, so those of you with small children will want to use your own judgement. There were small children at the screening that obviously loved it. I don't remember there being foul language or nudity – just a few loving kisses. The movie is fun for tweens, teens and adults.
HOW TO CONNECT – You can like The Sorcerer's Apprentice on Facebook and follow Walt Disney Pictures on Twitter.
Disclaimer/Disclosure: Thank you, Disney for the advanced screening. No monetary compensation received.