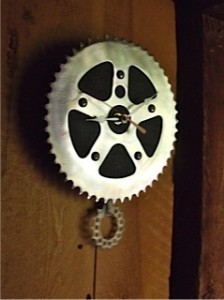 About: UncommonGoods is an online marketplace offering creatively designed, high-quality merchandise at affordable prices. At UncommonGoods, we believe that creativity and the expression of individuality represent two great human treasures. We have set out to create a business that makes uncommon goods accessible to everyone.
UncommonGoods has a fantastic selection of unique recycled and handmade products. Whether you're looking for something for yourself or a special gift, there is plenty to choose from. I could spend hours browsing the site. It's wonderful to see how creative these artists are.
Bikes are big in my household. We have all raced competitively (yes, even me…) and we always enjoy bike themed products. I did a search for recycled bike products and immediately smiled.
Uncommon Goods has fun products that make good use of recycled bike parts – chain, tubes, tires, gears … I would have been happy with any of the items, but chose one that is especially unique.
The Recycled Pendulum Wall Clock is fabulous. They also have a desk version, if that's what you prefer. The pendulum is a really nice touch. The clock is really well made and is most definitely a conversation piece.
This would be a great gift for anyone who like bikes!
If bikes aren't your thing, they also have funny gifts, money clips, piggy banks and more!
HOW TO CONNECT – You can like them on Facebook and follow them on Twitter.
Disclaimer/Disclosure: Review sample provided to me.