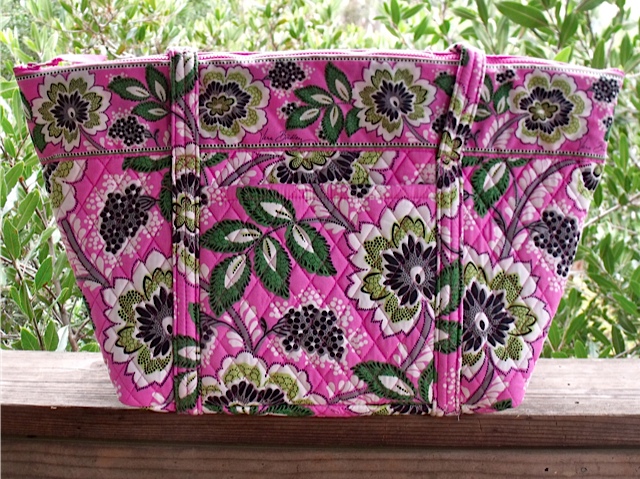 About: While on vacation in March of 1982, Patricia and Barbara were awaiting a flight in Atlanta when they noticed a definite lack of feminine-looking luggage. The longtime friends wasted no time in correcting this situation. Within weeks, these dynamic women had created a company, named after Barbara's mother, capable of marketing and manufacturing their cleverly designed products. The demand for these unique handbags and luggage items has grown and so has Vera Bradley, which is now nationally and internationally recognized.
For over 20 years, Vera Bradley has had a loyal following of customers who not only look forward to our lovely new fabrics and styles that are introduced each season, but who also appreciate the function and quality that is synonymous with our name.
Oh, Vera …. you have done it again!
It was so exciting to open up my package from Vera Bradley. As soon as I saw the pretty Priscilla Pink fabric, I just had to smile. The pink background sets off the white, green and black flowers perfectly. This is a happy print!
The Miller Bag is big – 24″ wide by 13 1/2″ tall by 8″ deep. The handles add another 13 inches.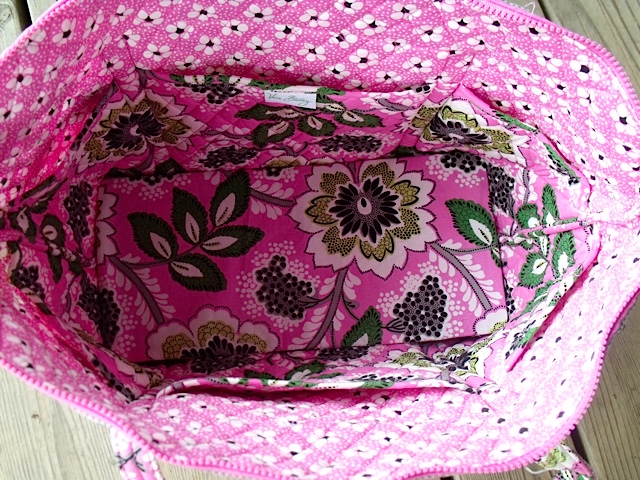 The whole bag is roomy, but my favorite of those measurements is the 8″ deep. Inside the bag is a removable, sturdy flat base. I can set it down and it won't tip over. When I open up the bag, I can easily see what's inside since it's so wide.
There are 6 pockets inside and 1 outside. The bag zips closed to keep my belongings safe.
I plan to use this as my personal carry on item when I fly. I will also have a piece of carry-on luggage. The Miller Bag is big enough to hold my laptop, my purse and some extras. It's functional and looks stylish and feminine.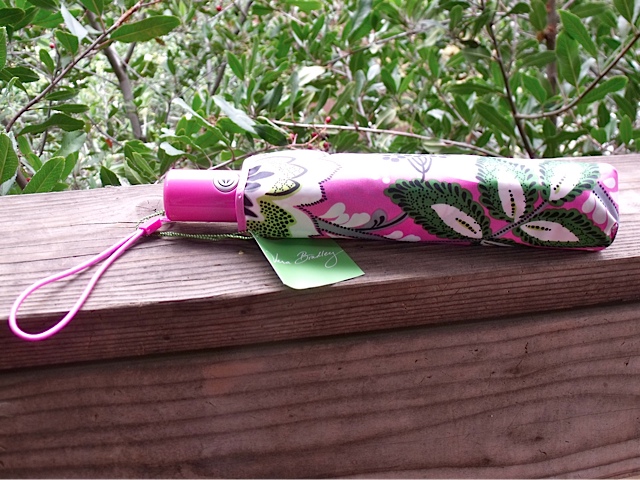 Of course, Vera Bradley has other items in the same fun print.
The Priscilla Pink Umbrella is a great way to make a rainy day a bit more fun. It doesn't take up much space and it's easy to pop it open or put it away quickly. The umbrella has a handy wrist strap and a matching sleeve.
Very Bradley products bring extra fun and happiness to my day!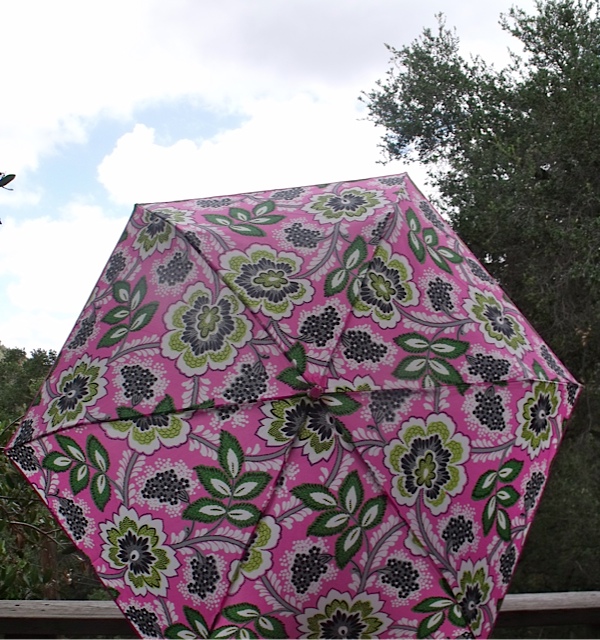 HOW TO CONNECT – You can like Vera Bradley on Facebook and follow them on Twitter.
Disclaimer/Disclosure: Review sample provided to me.