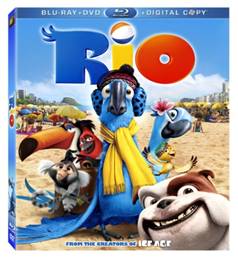 Those of you who already saw Rio when it was in theaters know how fun this movie is!
Rio is rated G and is good family entertainment. It's fun for the kids and also fun for adults. They've really created something special.
August 2nd is the big day when you'll be able to purchase Rio for yourself. The movie will be available on Blu-ray and dvd. They have some fun party packs that also include digital copies and lots of bonus features. The iPad coloring app is quite amazing!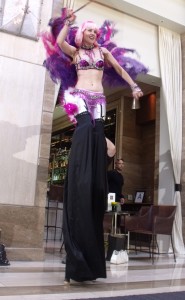 In honor of the upcoming release, I attended a special media day in Los Angeles near the 20th Century Fox studios. We started with a delicious South American buffet lunch to get us in the Rio mood. It was interesting to talk with Fox employees about their work behind the scenes.
To further capture the Carnivale spirit, we were entertained by a very skilled stilt dancer and Brazilian style music. She was full of energy and fun to watch. I can only imagine how exciting it would be to be surrounded by entertainers at Carnivale in Rio.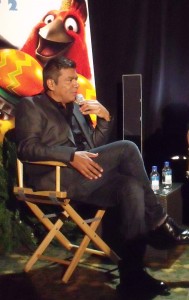 Then…. the main event …. George Lopez joined us to talk about Rio. He plays Rafael the toucan in the movie. It was interesting to hear him speak about working on the movie and how it all came together. He personally identified with his character who has a strong sense of family.
The movie did well in the theaters and I'm expecting it to do very well when it's released for home viewing as well. You can expect to find Rio branded merchandise and displays when you're shopping. They've partnered with Little Debbie and Chiquita Banana. You'll also be able to incorporate Rio into your back to school clothing and supply shopping!
Rio is a feel good movie. You'll be entertained by the fantastic animation, fun music and adventurous plot. And it leaves you with a positive message of doing the right thing and making family a priority.