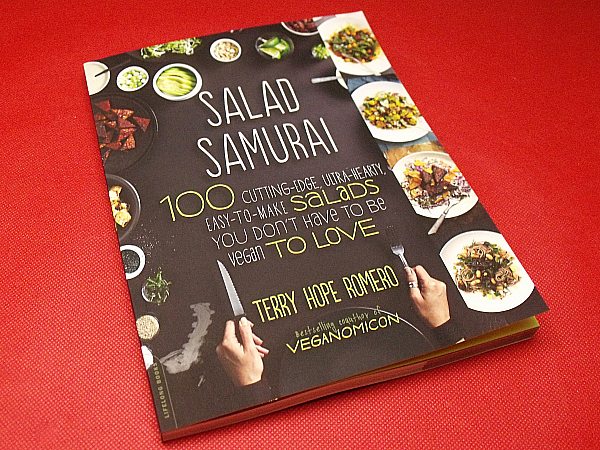 Mmm… salad! I love eating salads year round, but always seem to eat more of them in the Spring and Summer when there is so much wonderful, fresh produce available.
Often when I eat out at restaurants, the meal sized salads have meat in them. If the meat is removed, they may still taste good but they are no longer a balanced, nutritious meal. When I make salads at home, I do want balanced nutrition. This recipe book is an excellent addition to my kitchen library.
Terry Hope Romero has created one hundred vegan salad recipes that can fill you up and satisfy you with their taste and plant based, protein rich nutrition. You'll get whole food goodness from fresh, seasonal ingredients. They can be enjoyed by vegans, vegetarians and even those of you who enjoy meet.
Salad Samurai

100 Cutting-Edge, Ultra-Hearty, Easy-to-Make Salads You Don't Have to Be Vegan to Love
by Terry Hope Romero
isbn 978-0738214870
Pub. date 6/17/14
Description: "Award-winning chef and Veganomicon coauthor Terry Hope Romero knows her veggies. In Salad Samurai, she's back to teach you the way of the veggie warrior, rescuing salads from their bland, boring reputation and "side" status with more than 100 vibrant, filling entrees."
Here are a few of the many recipes that look great to me:
Seared Garlic Chickpeas, Spinach, and Farro

Fiery Fruit and Quinoa Salad
Polish Summer Soba Salad
Curry Pumpkin Collard Wraps
Coconut Carrot Cake Salad
Enter daily through the Rafflecopter form below: