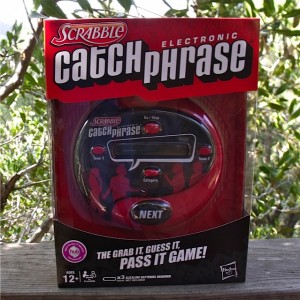 Scrabble Electronic Catch Phrase
About: "Think fast! The SCRABBLE Electronic CATCHPHRASE game challenges you to come up with words and then pass the game fast so you don't get caught holding the bag! Give your teammates clues so they can guess the word or phrase on the game unit's screen. But no rhyming, first letters or parts of the word, or the other team gets a point! Once your team has guessed it, pass the unit fast to the other team. When the buzzer goes off, whoever has the unit loses a point to the other side, so move fast! When your team gets to 7 points, you win!"
What fun!
I love playing games that involve brainpower and are fun for a group. This game is definitely a good addition to my party game arsenal.
First, you may be wondering why it's called "Scrabble." I am, too. I thought it would make more sense when I got it and saw the detailed instructions. It doesn't. I like Scrabble and I like this game, but they are not at all similar.
Electronic Catch Phrase is for 4 or more players ages 12+. You'll be divided into 2 teams and need at least 2 people per team, but having 3 or more on a team makes it extra fun. It takes 3 AAA batteries that are not included.
There are 5 different categories to choose from:
Fun and Games
Entertainment
Everyday Life
The World
Variety
The game moves quickly and can be hilarious. When you're laughing and under pressure, it's easy to draw a blank or accidentally make a mistake when giving a clue. With Catch Phrase, you never know what's going to happen.
Electronic Catch Phrase would make a great gift. It will also be fun to play when family is gathered together for the holidays.
CONNECT – You can follow Family Game Night on Twitter.
Enter daily through the Rafflecopter form below: