Sea of Thieves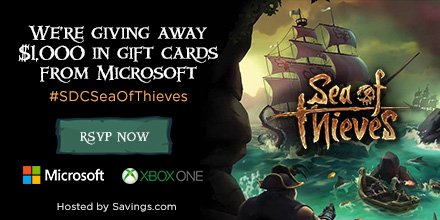 Have you ever dreamed of being a pirate? Now, you can follow your dreams virtually with the brand new Sea of Thieves game!
The shared world adventure game will allow players to be a pirate and explore a vast ocean. You can search for treasure, visit islands and have epic pirate battles.
There are three fun promotions: an easy entry giveaway, a Twitter party with prizes and a special deal offer. Good luck and I hope you enjoy this swashbuckling adventure!
Prize:
$100 Gift Card
10 Winners
Ends March 23rd, 2018
Click HERE for easy entry form and official rules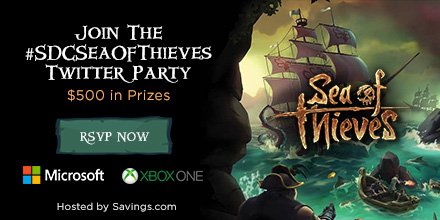 #SDCSeaOfThieves Twitter Party
Thursday, March 22nd
6PM PT/9PM ET
Prizes:
$500 in gift cards
RSVP here.
Special Offer
Get the Sea of Thieves game free, when you purchase an Xbox One X through this link.
Also, check out these other current sweepstakes.