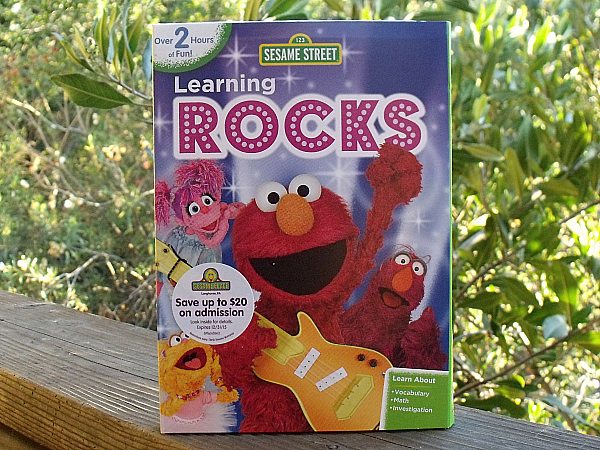 Are your kids ready to rock with Elmo, Zoe and other Sesame Street friends?
Learning Rocks is the latest Sesame Street DVD and it will have your kids rocking and actually learning about rocks, pebbles, obsidian, marble, limestone and gems. They'll learn about both music and rocks while they are having lots of fun. With this combination, kids will remember what they've learned.
Like many Sesame Street episodes, this one has some fun guest stars that even parents will enjoy. Donald Glover does a spoof of the energetic musical duo LMFAO. Actors Anna Faris and Dax Shepard make an appearance. Rev. Run from Run DMC shows us how to hop this way and Michael McKean spoofs the character he played in the classic movie, This is Spinal Tap.
I was in kindergarten when Sesame Street first made it's debut. I can remember how excited I was to learn along with the characters. The show has come a long way since then and it has helped generations of kids get a good start to prepare them for school and life.

Sesame Street
Learning Rocks

Release date 7/22/14
Synopsis: "When famous rocker Virgil Von Vivaldi shows up on Sesame Street, it is up to Elmo, Abby, Zoe and friends to use their creativity to make a new rock band for Virgil. The catch? Virgil's wants his "rock" band to be made entirely out of rocks! Elmo and friends take on this fun challenge and set out on a quest to find the perfect rocks for Virgil. They identify each rock they come across and study its characteristics to decide how it can be best used in the band."
Enter daily through the Rafflecopter form below: