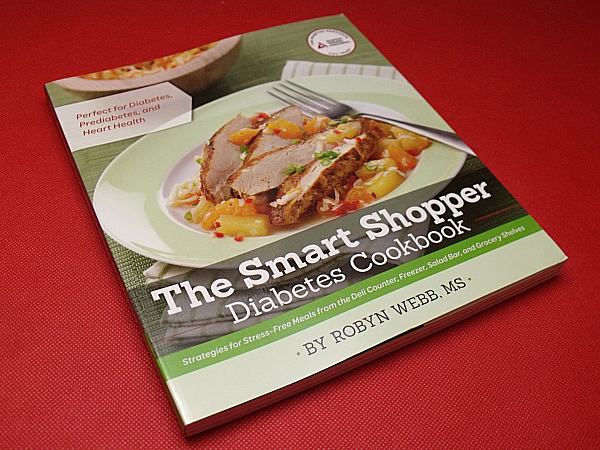 When it comes to grocery shopping, it's easy to get stuck in a rut and end up with the same products and brands in your shopping cart. This can get boring and can lead to trouble when you've got diabetes or pre-diabetes or when you're concerned about heart health.
The Smart Shopper Diabetes Cookbook by Robyn Webb has some great tips for filling your cart with fresh food that is minimally processed.
The cookbook includes 125 recipes to help put these ingredients to good use in dishes that the whole family can enjoy – even those family members who don't have health concerns. The recipes are simple, so you can make them even if you're short on time or are lacking in kitchen skills. There is even a menu planner with nutritional information.
The Smart Shopper Diabetes Cookbook

Strategies for Stress-free Meals from the Deli Counter, Freezer, Salad Bar, and Grocery Shelves
by Robyn Webb M.S.
isbn 978-1580404945
Pub. date 7/30/13
Description: "Does grocery shopping always seem to be more of a hassle than it should be? And more expensive? Are you looking for new ways to prepare your meals with less stress and more flavor? All it takes is the smart strategies found in The Smart Shopper Diabetes Cookbook to create healthful, delicious meals in half the time."
Here are a few of the recipes that caught my eye:
Creamy Broccoli Soup

Black Bean Tacos
Hash Brown Quiche
Mushroom Polenta
Peanut Butter Cookie Sandwiches
Enter daily through the Rafflecopter form below: