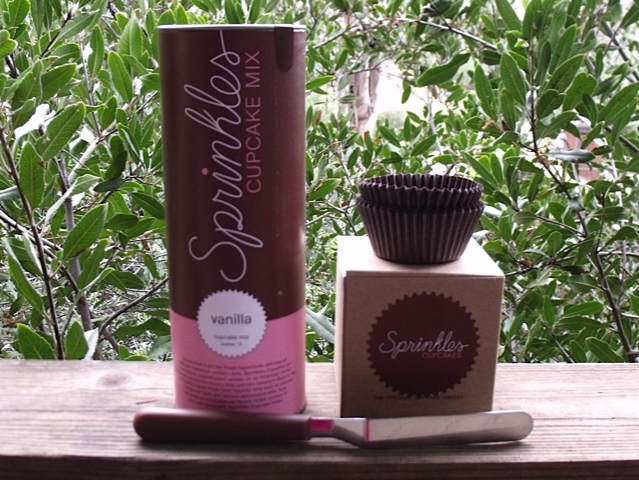 About: As we continue the tradition of simple and satisfying desserts handcrafted from the best ingredients – not too precious, always just right – our hope is that Sprinkles Cupcakes will conjure up lovely memories of your own childhood or family, or simply the pleasure of good taste.
If you've ever had Sprinkles Cupcakes, you know how wonderful they are. They have retail stores in Beverly Hills, Los Angeles, Chicago, Dallas, Georgetown, Houston, La Jolla, New York, Newport Beach, Palo Alto and Scottsdale. They even have a 24 hour cupcake ATM in Beverly Hills for when you just have to have a cupcake at 3 am.
Sprinkles also has cupcake mixes, so you can get that Sprinkles taste at home. The mixes use high quality ingredients just like the freshly baked ones from the stores. The instructions are clear and not too complex. For the vanilla cupcakes, I only needed to add eggs, butter and milk.
Cupcake Wars is one of my must-see TV shows. Candace Nelson, the founder of Sprinkles, always gives such great advice to the contestants. She really does know her cupcakes.
There's one little problem that often happens on the show. Contestants start to run out of time and they frost the cupcakes before they've had enough time to cool. Then the frosting slides right off the top of the cupcake. Yes, that same thing can happen at home when you impatiently try to frost the cupcakes before they are cool. No, I did not photograph my messy, but quite delicious, cupcakes! ;)
CONNECT – You can like Sprinkles on Facebook and follow them on Twitter.
Enter daily through the Rafflecopter form below: