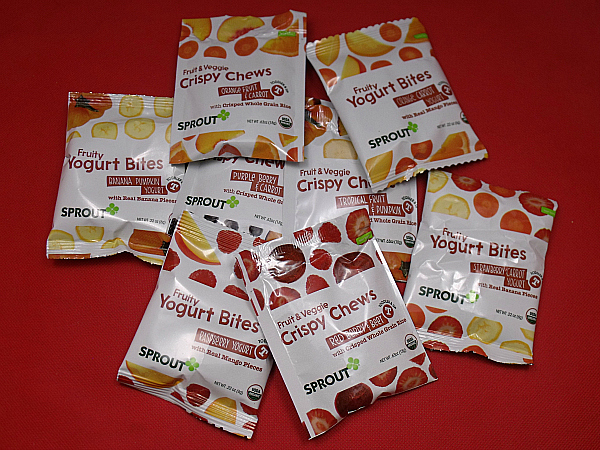 We all need to watch what we eat. Junk food isn't good for anyone and it's especially not good for babies and toddlers, since their bodies are still developing. It's also a good idea for food to actually taste good.
Sprout Organic Foods are made from wholesome, organic ingredients, so that your kids can develop a love for nutritious foods from the start. Chef Tyler Florence used his culinary skills to develop baby foods that are tasty enough that adults can enjoy them.
Yes, I do enjoy them. Their fruit and veggie pouches don't taste like 'baby food.' They just taste like the simple, fresh ingredients that they contain. I thought maybe I was a little bit odd for enjoying baby food, but I met Tyler Florence and he assured me that he knows many adults who eat these foods for a quick and healthy meal or snack on the go.
Sprout has just launched a new line of Toddler Snacks that are a tasty blend of fruits, veggies and brown rice. The single serve packets are great for a snack or as part of a meal. It's easy to toss a few into a purse or diaper bag.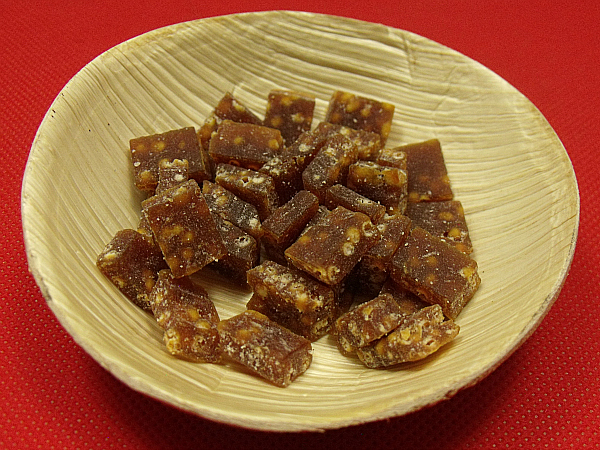 The Crisp & Chewy Fruit and Veggie Chews are fun and unique. They are chewy like a regular fruit snack, but the brown rice gives them a crispy crunch. They are available in the following flavors:
Orange Fruit & Carrot
Purple Berry & Carrot
Red Berry & Beet
Tropical Fruit & Pumpkin (as photographed)
The Fruity Yogurt Bites contain both yogurt and fruit. The textures and flavors are perfect for kids (and adults) . They are also available in 4 flavors:
Banana Pumpkin Yogurt with Banana Pieces
Orange Carrot Yogurt with Mango Pieces
Raspberry Yogurt with Mango Pieces
Strawberry Carrot Yogurt with Banana Pieces
The ingredient lists are simple. You'll find just the ingredients you would expect and no junk. There are no additives, no preservatives, no artificial colors or flavors and no added sugar. The fruits and vegetables are perfectly wonderful as is.
This is food for toddlers, but …. can really be good for any age.
CONNECT – You can like Sprout on Facebook and follow them on Twitter and Pinterest.
Enter daily through the Rafflecopter form below: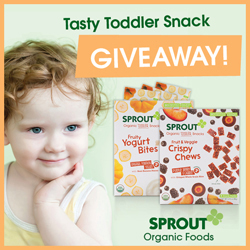 #spon: I'm required to disclose a relationship between our site and Sprout Foods. This could include the Sprout Foods providing us w/ content, product, access or other forms of payment. Check out the new Sprout Foods website at www.sproutorganicfoods.com.