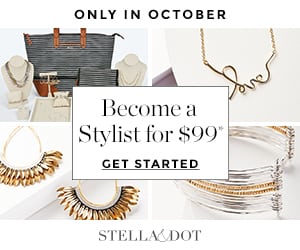 **I was compensated for this post and this post contains affiliate links, and I will be compensated if you make a purchase after clicking on my links.

Ready to have fun, get some great accessories and earn money? This month's Stella and Dot bonus for new signups is big, so it's the perfect way to do exactly that!
Some choose to put in a little part time effort, and others have turned this opportunity into full time income. Whatever your personal goals, this is a fun and stylish opportunity that is worth checking out!
Details
New stylists who join in October will receive an extra $150 worth of bestsellers, so the starter kit value is $500!
Additionally, all starter kits will be available for a down payment of as little as $99 this month!
The balance of $100 for the starter kit will be waived, when a Stylist sells $1,000 in her first 30 days.
Also, since it's October, you can shop for a cause. Stella & Dot is donating 20% of the retail purchase price of eligible sales of the Tribute Bracelet.
The funds are going to Bright Pink, which is focused on prevention and early detection of cancer in young women.
The bracelet is beautiful and the cause is something we can all get behind.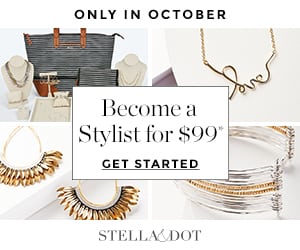 Also, check out these other shopping articles for great ideas and savings on products you want and need.