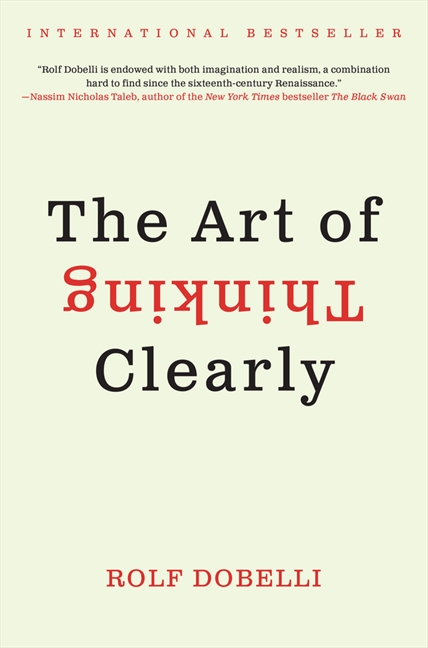 Rolf Dobelli is an intelligent man who likes to think, analyze and reason. He is an author and entrepreneur who has founded a community comprised of thinkers, Zurich.Minds. He has studied human psychology and behavior as it relates to the decisions that we make each and every day.
The Art of Thinking Clearly

By Rolf Dobelli
isbn 9780062219688
Pub. date 5/14/2013
Description: "Have you ever: Invested time in something that, with hindsight, just wasn't worth it? Or continued doing something you knew was bad for you? These are examples of cognitive biases, simple errors we all make in our day-to-day thinking. But by knowing what they are and how to spot them, we can avoid them and make better decisions."
I like to gather information and analyze it, so I knew this book would be right up my alley. I found it to be absolutely fascinating.
We are constantly making decisions. Some of them are small and without significant consequences. Others are bigger and can have tremendously good results or horribly devastating results. Sometimes we consciously make these decisions and sometimes we act due to emotions or without even thinking at all.
Rolf Dobelli can help you understand how our thought processes work and how to apply this understanding to practical situations.
The book consists of 99 little stories that illustrate how people think in different situations and draws conclusions from them. It's easy to recognize yourself or someone you know in each one.
The chapters will only take a few moments to read. You may want to read the book straight through or just refer to specific sections.
The Art of Thinking Clearly is a beneficial and enjoyable read.
CONNECT – You can follow HarperBooks on Twitter.
Enter daily through the Rafflecopter form below: