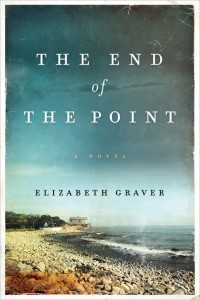 The End of The Point
A Novel
by Elizabeth Graver
isbn 9780062184849
Pub. date 3/5/13
Description: "A place out of time, Ashaunt Point—a tiny finger of land jutting into Buzzards Bay, Massachusetts—has provided sanctuary and anchored life for generations of the Porter family, who summer along its remote, rocky shore. But in 1942, the U.S. Army arrives on the Point, bringing havoc and change. That summer, the two older Porter girls—teenagers Helen and Dossie—run wild. The children's Scottish nurse, Bea, falls in love. And youngest daughter Janie is entangled in an incident that cuts the season short and haunts the family for years to come."
Its always fun to get wrapped up in a family saga whether it's a book, movie or TV show. I like my own life to be drama-free, but enjoy the entertainment of the inner workings, scandal and drama of other fictional families.
The saga begins in 1942 and ends in 1999. The world itself and the individual characters go through many changes over the years. The place at the end of the point remains connected to the family through all the ups and downs.
CONNECT – You can follow HarperBooks on Twitter.
Enter daily through the Rafflecopter form below: