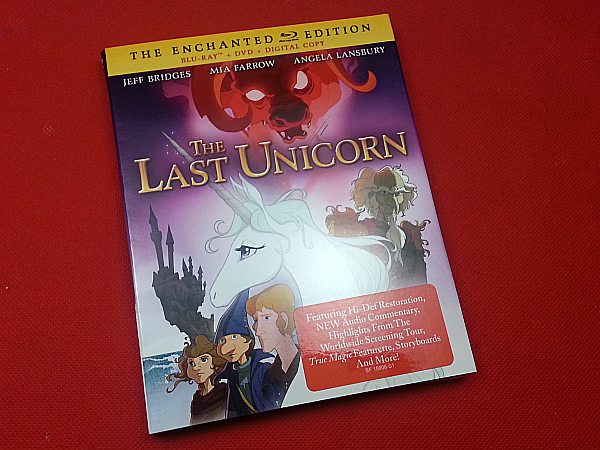 Do you remember The Last Unicorn?
As I watched it again as an adult, I realized it had a very familiar feeling. Then I realized why. It was animated by the Japanese anime studio Topcraft. The company was purchased after this movie was made and has had much success under it's new name, Hayao Miyasaki's Studio Ghibli. The Last Unicorn has a different style than their other films that I like (Princess Mononoke, Ponyo, Castle in the Sky…), but it manages to impart many of those same feelings.
Like Studio Ghibli films, the animated feature is for kids and adults. There is lots of action and the story has deep meaning that older children and adults will pick up on.
The new Enchanted Edition of the movie has been restored in high definition. There is also new audio commentary, a featurette, storyboards and other bonus material that will be enjoyed by young and old fans.
The unicorn is beautiful, as is her fantasy world, but the story is tense at times. It's rated G, but may be a bit much for little ones who are accustomed to the typical animated preschool TV shows. Use your own discretion. This is one of those animate movies that I will happily watch even when children are not present.
The Last Unicorn

The Enchanted Edition
Shout! Factory
Release date 6/9/15
Synopsis: "Upon hearing that she may be the very last of her kind on Earth, a Unicorn goes in search of others like her. Her quest won't be easy, as it leads her straight to the evil King Haggard and his infamous Red Bull! And the journey is made even more complicated when, to protect her from the envious wrath of Haggard, a spell is cast to turn the Unicorn into the Lady Amalthea, a young, beautiful, human woman. But with this new body comes new thoughts and feelings, such as love for Haggard's son, Prince Lir. Will the Unicorn get lost inside this new body? Will she meet the fate of the other Unicorns? Or will she be able to defeat Haggard and his Red Bull with the aid of her friends, Schmendrick the bumbling magician and Molly Grue?"
SOCIAL MEDIA – You can connect with Shout Factory! on Facebook and Twitter.
Enter daily through the Rafflecopter giveaway form below: