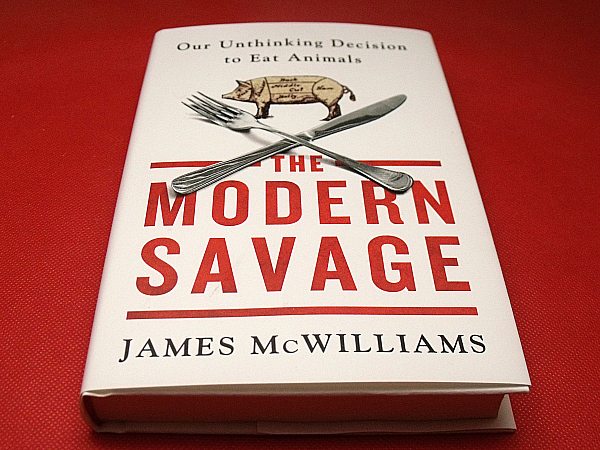 Do you know where your food comes from? Do you know what's involved in the process of getting food into your home and onto your plate?
I think we have all heard about or have seen images or videos of animals being mistreated at large farms and slaughterhouses. It's enough to make anyone sick. Yet, people continue to consume animal products and either hope that these animals were not mistreated or just put those thoughts out of our minds.
Many have shifted to purchasing products labeled organic, free range or cage free. They think this is a better option, but what do these terms really mean? You might be surprised.
James McWilliams takes an in depth look at our modern practice of eating animals and animal products. The book is organized well and written clearly so that it's easy to understand. There is a huge 'notes' section with citations to document the information in the chapters and there are links to additional information that's available online.
Our animal industry has taken a huge toll on our environment, society and, of course, on the animals themselves.
When making personal decisions, it's always best to be informed and base your decisions on accurate facts and complete information. The Modern Savage is an excellent read to help you do just that.
The Modern Savage

Our Unthinking Decision to Eat Animals
by James McWilliams
isbn 978-1250031198
Pub. date 1/6/15
Description: "James McWilliams pulls back the veil on the questionable moral standards of our largely omnivorous world, and reveals the inherent immorality and the scope of the cruelty that takes place even on the smallest and supposedly most humane animal farms. He explores the "alternative to the alternative" – not eating domesticated animals at all – advocating for what he argues is the only truly moral, sustainable choice—a diet without meat, dairy, or other animal products."
SOCIAL MEDIA – You can connect with St. Martin's Press on Facebook and Twitter.
Enter daily through the Rafflecopter giveaway form below: