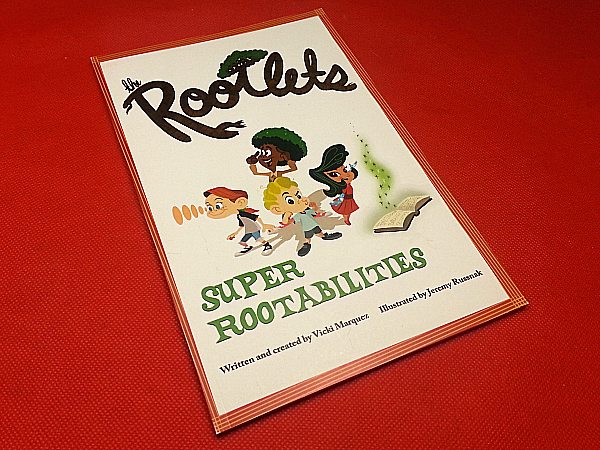 Are veggies awesome? Yes. Yes they are.
The Rootlets is a new children's book series for kids ages 4 to 9. The characters and stories are cute and just may encourage your kids to eat more veggies.
The characters are a cross between kids and vegetables. They look like children, but have vegetable-like hair and veggie super powers called 'rootabilities.' These adventurous kids live in a fantasy plant based world
Super Rootabilities is a fun story. It doesn't come across as preachy or overly educational, but kids will certainly pick up some good messages about eating healthy foods and the good things that vegetables can do for us.
The book is good reading anytime and will be a good way to expand upon what kids are learning in school in March for National Nutrition Month.
The Rootlets: Super Rootabilities

Adventures of the Rootlets
by Vicki Marquez
isbn 978-0990721604
Pub. date 10/28/14
Description: "Join the Rootlets and their dog, Basil, in their first adventure! Bross, Carrotina, Cornelius and Kaley are preparing for an exciting, once-in-a-lifetime event. That is, until Mr. Fungo Fungi arrives with shocking news, and the Rootlets learn that they have real magical super powers called Rootabilities! In a determined effort to discover their powers, the Rootlets soon realize that solving the biggest mystery of their lives won't be easy – and time is running out! Will the Rootlets be able to uncover their super Rootabilities without missing the big event?"
Enter daily through the Rafflecopter giveaway form below: