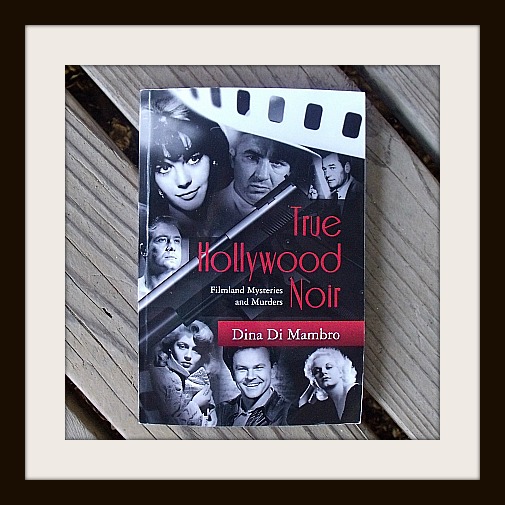 True Hollywood Noir is absolutely fascinating and very entertaining! Sometimes it's fictional movies that entertain, but often it's the true stories that are really interesting.
Dina Di Mambro takes a look inside the facts and theories surrounding sensational mysteries and murders that really did happen to Hollywood stars and those working on the other side of the camera. I was already familiar with some of the cases, but learned quite a bit more about them and others.
The book includes over 100 photos of the victims in their prime and of the crime scenes. I'm sure the author has her own opinions on these mysteries, but she presents the facts and theories in a way that allow readers to form their own opinions. With some, I think I have an idea as to what really happened. With others, it's fun to theorize, but we may never know the truth.
True Hollywood Noir is an interesting read for anyone who enjoys mysteries, true stories and Hollywood legends.
True Hollywood Noir

Filmland Mysteries and Murder
by Dina Di Mambro
isbn 978-0615572697
Pub. date 8/30/13
Description: "While viewers were captivated by the drama playing out on the silver screen, the lives of the stars of these film noir classics were often far more exciting. Uncover true stories of mystery and murder in a dozen different chapters featuring William Desmond Taylor, Thomas Ince, Jean Harlow, Thelma Todd, Joan Bennett, Lana Turner, George Reeves, Gig Young, Bob Crane, Natalie Wood, Robert Blake, and mobster Mickey Cohen. Included in the cast of characters of this book are Johnny Stompanato, William Randolph Hearst, Marion Davies, and Charlie Chaplin. Find never before told mob stories about Ben "Bugsy" Siegel, Virginia Hill, and a host of notorious underworld figures. From 1922 until 2001, explore some of Filmland's most fascinating mysteries, scandals and murders …true Hollywood noir lived by the players behind the scenes. From the West Coast mob and city corruption intertwining with Hollywood mysteries on and off the screen, to the plots of noir films pulled from actual happenings in the underworld, get the stories behind the stories. Get the theories behind each case in this page-turner—then draw your own conclusions as to the truth behind some of the most prominent Hollywood mysteries."
Enter daily through the Rafflecopter form below: