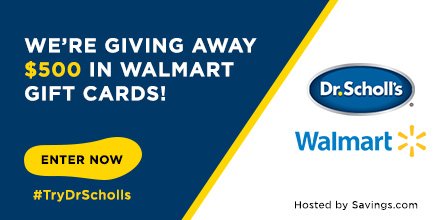 Have you ever used Dr. Scholl's products? I've used their shoe inserts and have been happy with the extra comfort and support they provide for achy heels and arches. Of course, it's always nice to get a money saving coupon. You can get a $10 off coupon to try Dr. Scholls HERE.
Walmart Gift Card Giveaway
#TryDrScholls
10 Prize Winners:
$50 Walmart Gift Cards
Ends August 27th, 2017
Click HERE for super easy entry form and official rules.