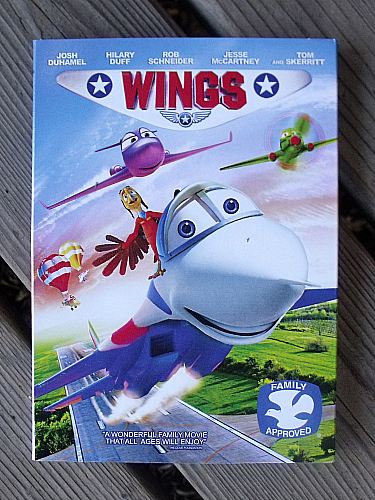 Wings is a fun-filled animated feature movie that the whole family can enjoy. It's rated G and has received the Dove Seal of Approval indicating that it has met their strict qualifications and is 'family approved.'
Wings was originally a Russian movie that was released a couple of years ago. It has now been re-made and updated for English speaking audiences. The movie has drama, action, edge of your seat excitement and humor. This is the kind of movie that kids will want to watch again and again and will probably inspire creative play based on their favorite characters and scenes.
Adults and some kids will recognize the big name actors who provide the voices for the characters – Josh Duhamel, Hilary Duff, Rob Schneider, Jesse McCartney and others.
Wings is a positive and uplifting movie that leaves kids feeling empowered, brave and happy!
Wings

Rated G
Release date 2/4/14
Synopsis: " A few weeks before a big air show competition, Ace, a young aircraft fighter gets his acceptance letter to take part in the prestigious competition. Determined to be the next champion, he ventures out to find and train with Colonel, a legendary retired aircraft fighter. But lurking in the wings of the flight training camp is another competitor, Cyclone, who will stop at nothing to win the title for himself. On the day of the big competition Ace and Cyclone compete, leaving only one brave aircraft fighter not only the champion, but also a hero."
Enter daily through the Rafflecopter form below: