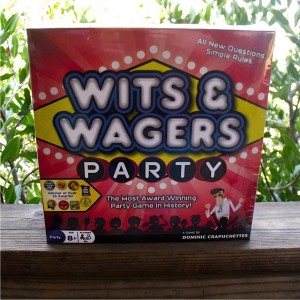 North Star Games
Wits & Wagers Party
This game is just made for fun!
Wits & Wagers is simple to learn and very entertaining. The game is recommended for ages 8+ and can be played by 4 people or a big, huge crowd. One person gets to be the question reader and the others divided up into teams. You can have one person on a team or a group.
Questions are read, teams come up with their best guess and then all the teams place wagers on which guess is the closest. The questions are random enough that no one is expected to know the exact answer. You don't even need to place a bet on your own guess. Some guesses may be close and some may be completely off base. The guessing and placing wagers is all fun.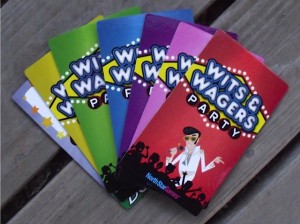 Since it's so easy to learn, it's ideal for parties. First timers will pick it up in just a minute or two and they won't be at a disadvantage if some of the players are more experienced.
The game can be played quietly and sedately, but is much more fun when you've got a loud and energetic group.
Wits & Wagers is great fun for family game night or a large party!
HOW TO CONNECT – You can like North Star Games on Facebook and follow them on Twitter.
Enter daily through the Rafflecopter form below: