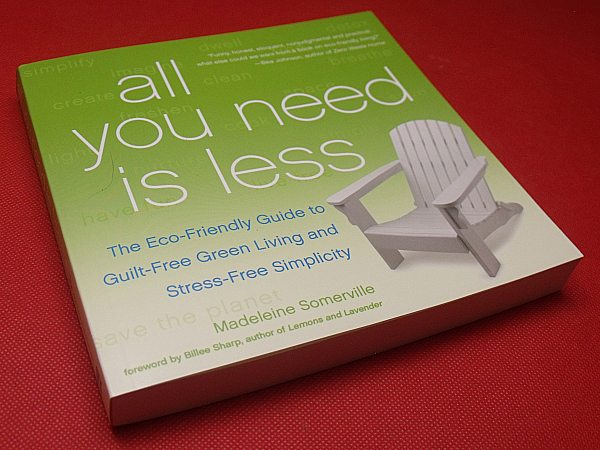 Life can be hectic and stressful in our modern world. I've been noticing a trend to simplify and reduce stress among people who are looking for a more enjoyable life that is good for people and minimizes our footprint on the earth.
Blogger Madeleine Somerville has filled this book with practical tips that you can use to reduce consumption and incorporate repurposing and recycling into your daily life. A simple life can be a big improvement that will lead you to more peace and happiness.
You may be ready for some big life changes or you may want to find a few new ideas that will be easy to make a part of your routine. Either way, this book will be helpful.
Chapters include recipes for eco-friendly household and beauty products. tips for food, gardening and pet care. There is even a section on relationships. Wouldn't it be nice to remove some of the stress from your life, so that you can enjoy your family and friends more fully?
All You Need Is Less

The Eco-friendly Guide to Guilt-Free Green Living and Stress-Free Simplicity
by Madeleine Somerville
Viva Editions
isbn 978-1936740796
Pub. date 4/15/14
Description: "Top eco-blogger and new parent Madeleine Somerville has gathered completely original ideas on how to save money and the planet, and have fun in the process, in All You Need Is Less. Learn how to create and not just consume! This guide to the guilt-free green life is packed with dozens of DIY ideas for shampoo and eco-cleaners, worm compost your garden will love, yummy recipes and even homemade holiday gifts and décor. You'll wonder how you ever lived without this book! "
Enter daily through the Rafflecopter form below: