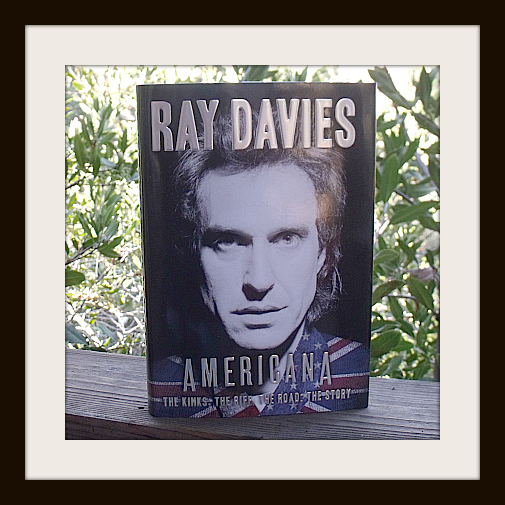 Americana!
I've been a fan of The Kinks for decades. The music that made me dance and sing when I was a kid, and still makes me dance and sing. Ray Davies and the other members of The Kinks have talent that spans a variety of genres.
Their story goes way beyond the music and could have turned out quite differently, if they hadn't had difficulties getting into the US back in the early 1960's. During the time period when the Beatles spearheaded the British Invasion, The Kinks were denied visas and couldn't enter the US, thus hampering their career in a very big way.
The Kinks are successful and have hits that we all know, but I can't help but wonder how far they would have gone if they hadn't had to deal with a rocky start here in the US.
This book would be a great gift for the music lover on your holiday list.
Americana: The Kinks, the Riff, the Road

The Story by Ray Davies
by Ray Davies
isbn 978-1402778919
Pub. date 10/15/13
Description: "As a boy in post-War England, legendary Kinks' singer/songwriter Ray Davies fell in love with America—its movies and music, its culture of freedom, fed his imagination. Then, as part of the British Invasion, he toured the US with the Kinks during one of the most tumultuous eras in recent history—until the Kinks group was banned from performing there from 1965-69. Many tours and trips later, while living in New Orleans, he experienced a transformative event: the shooting (a result of a botched robbery) that nearly took his life. In Americana, Davies tries to make sense of his long love-hate relationship with the country that both inspired and frustrated him. From his quintessentially English perspective as a Kink, Davies—with candor, humor, and wit—takes us on a very personal road trip through his life and storied career as a rock star, and reveals what music, fame, and America really mean to him. Some of the most fascinating characters in recent pop culture make appearances, from the famous to the perhaps even-more-interesting behind-the-scenes players."
CONNECT – You can follow Sterling Books on Twitter.
Enter daily through the Rafflecopter form below: