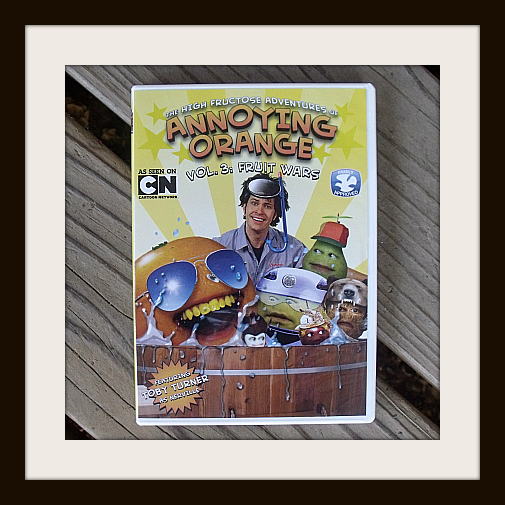 Annoying?
Absolutely. Most definitely. Yes. Yes. Yes.
And that is exactly why these fruit with teeth, lips, tongues and eyeballs are oh so very popular!
The Annoying Orange character was first introduced as a web series which now has billions of views on YouTube. Yes, I said billions! It's not a regular series on Cartoon Network.
Annoying Orange is rude, obnoxious and crass. He finds joy in smashing, squashing, cutting and otherwise causing the demise of other characters. He does this with flamboyance and a great sense of showmanship. He is often joined by a famous guest star (Jane Lynch, Tony Hawk, Billy Dee Williams, Eddie Izzard and others!)
The High Fructose Adventures of Annoying Orange

Fruit Wars DVD
Release date 9/17/13
Synopsis: "Fruit Wars follows Orange and his band of produce buddies, Passion Fruit, Pear, and Marshmallow, as they navigate the time-space continuum in a magical fruit cart with their only human friend, Nerville (Turner). Each episode sprouts more laugh-out-loud annoyingness as the crew is thrown into one crazy predicament after another and forced to squeeze their way out."
The DVD includes 10 full length episodes to annoy you and your kids again and again!
Enter daily through the Rafflecopter form below: