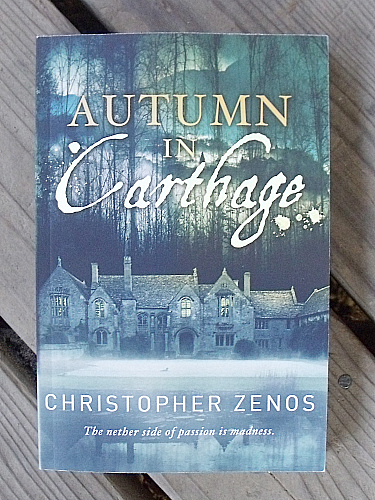 Autumn in Carthage is a fascinating novel that doesn't fit neatly into one genre. It can be called sci-fi, historical fiction, fantasy and romance. There is also a twist that makes it even more interesting.
The author is publishing under a pseudonym. The person who wrote this is not really named Christopher Zenos. He (or she) is a university professor who is well-published. Instead of publishing under his real name where he might need to be guarded in the things he writes, the use of a pseudonym gives the author freedom to turn this work of fiction into something very personal.
Much like the main character in the novel, Christopher Zenos is a college professor who has had to deal with mental illness his entire life. He can function in the world, but the illness is ever present and impacts the choices he makes, the way he views the world and the his behavior. Knowing that there is personal reality woven into this fantasy fiction makes it an even more enjoyable read.
Autumn in Carthage

by Christopher Zenos
isbn 978-1496043023
Pub. date 3/5/14
Description: "Nathan Price is a college professor with crippling impairments, seeking escape from his prison of necessity. One day, in a package of seventeenth-century documents from Salem Village, he stumbles across a letter by his best friend, Jamie, who had disappeared six months before. The document is dated 1692‹the height of the Witch Trials. The only potential lead: a single mention of Carthage, a tiny town in the Wisconsin northern highland. The mystery catapults Nathan from Chicago to the Wisconsin wilderness. There, he meets Alanna, heir to an astonishing Mittel-European legacy of power and sacrifice."
Enter daily through the Rafflecopter form below: