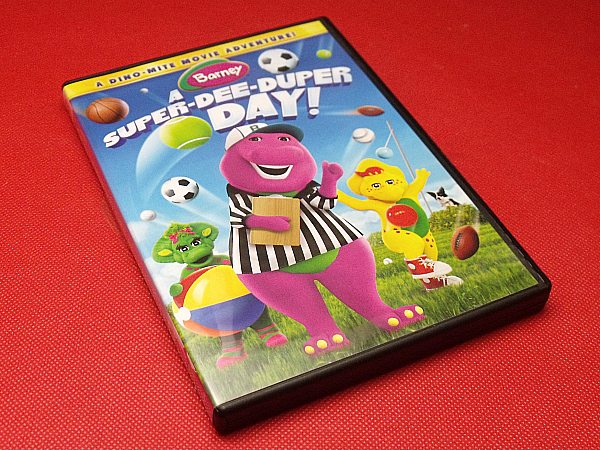 Are you ready for some Barney style fun? This big purple dinosaur can help you kids have a super-dee duper day!
Barney has been entertaining and teaching kids for over 25 years. The creators of this program really know how to reach preschoolers at an age appropriate level, so that can learn good lessons about how to treat people well and be an all around good person. Kids may outgrow Barney, but the lessons stick.
This DVD is especially good for Summer when kids can have active fun outdoors. Barney, BJ and Baby Bop have a great time playing a variety of sports and games. He just may encourage your kids to play and avoid Summer boredom.
A Super Dee-Duper Day has almost an hour of programming and includes a bonus counting game and music video for extra fun.
Barney
A Super Dee-Duper Day!

Not Rated
Release date 7/15/14
Synopsis: "When Barney takes his friends on a dino-sized adventure, everyone has a Super-Dee-Duper Day! Barney encourages everyone to use their imaginations to remember the lessons they learned during their super Sports Day in the park showing them that sometimes the most rewarding activities are the most simple. From playing ball and hopscotch to riding bikes, playing basketball and much more, Barney, BJ™, Baby Bop™ and Riff™ show how the power of friendship makes everything fun"
Enter daily through the Rafflecopter form below: