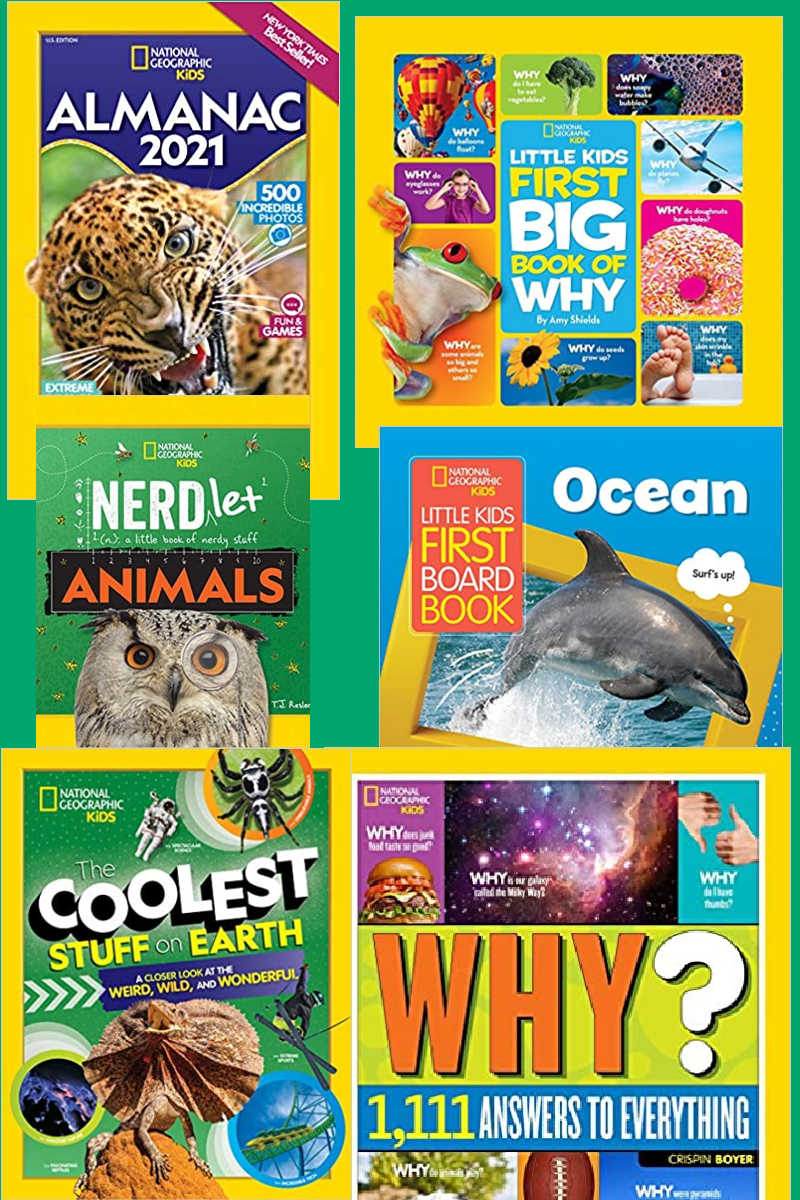 Holiday Gift Guide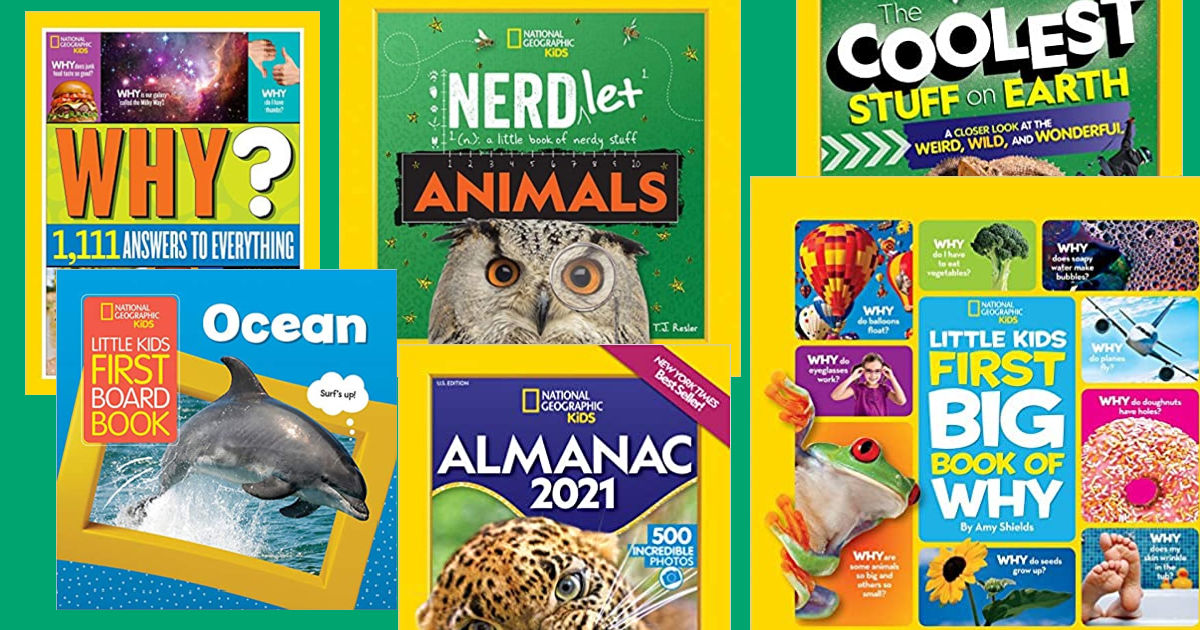 The holidays are the perfect time for expanding young minds, so I recommend Nat Geo books for curious kids to make kids and parents happy.
There are books for preschoolers and bigger kids, but they can be enjoyed by adults, too.
Adults can enjoy reading them with a child or even when no children are present.
The photographs are gorgeous and the information on the pages is fascinating.
These are the books that the whole family can treasure for years.
All of these books make wonderful holiday gifts, so buy one or buy all six!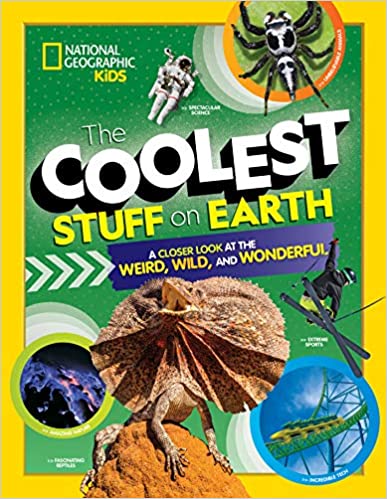 A Closer Look at the Weird, Wild and Wonderful
National Geographic Kids
isbn 978-1426338588
Pub. Date 11/3/20
Synopsis
This big, bright and photo-packed gift-worthy book digs into the details behind our planet's most magnificent marvels, epic extremes, and astonishing animals.
Did you know that dogs can shake off a pound of water in less than a second?
That some sand dunes whistle and sing?
That the U.S. dollar bill is full of hidden symbols related to the number 13?
Our world is filled with strange, bizarre, and weird happenings.
But what do they mean? WHY are they important?
And what secrets are behind them?
These stories and much more are revealed through cool stories, action-packed photos, fantastic infographics, and exciting Q&As with in-the-field experts.
Discover the secrets of sharkskin, the mysteries behind incredible island animals, the power behind lightning, how a rare gemstone changes color, and more.
Kids will be captivated by this fresh way of looking at our amazing planet.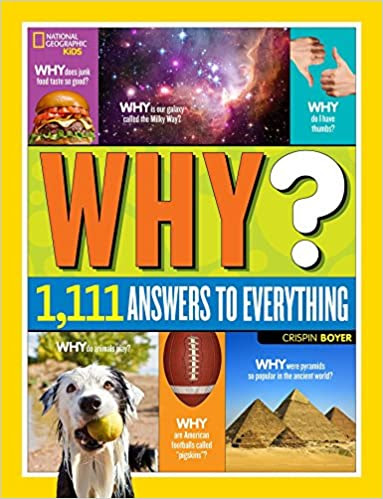 Over 1,111 Answers to Everything
Nat Geo Kids
isbn 978-1426320965
Pub. Date 10/13/15
Synopsis
The concept is simple.
Got a question?
Well now you have an answer!
1,111 of them, in fact.
Want to know why your snot is yellow?
Flip to the human body chapter.
What's on the inside of a turtle shell?
The animal section's got you covered.
What's in the deepest part of the ocean?
Why doesn't Earth just float off into space? C
heck, check, and check.
With hundreds of topics ranging from silly to serious, this book has the expert information kids need in a fun and entertaining format that will keep them digging for answers.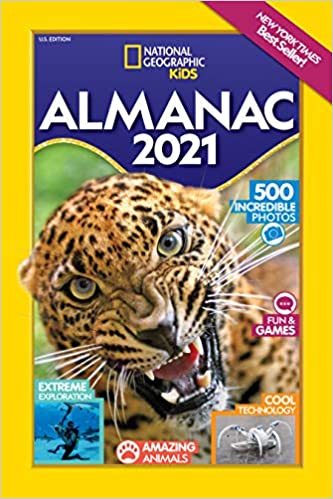 Nat Geo Kids
isbn 978-1426336720
Pub. Date 5/5/20
Synopsis
The latest installment of the New York Times best-selling almanac features amazing animal stories, explorer profiles, and outrageous attractions that kids know and love.
Additionally, there are more of the incredible inventions, awesome games, and fresh challenges for curious kids who want to learn all about the world and everything that's in it!.
Tons of fun facts, crafts, activities, and fascinating features about animals, science, nature, technology, conservation, and more is why this is the number one selling kids almanac on the planet.
There's a whole chapter full of fun and games, including activities, jokes, and comics and the colorful compilation also includes an Almanac Challenge 2021.
This inspires kids to reduce their plastic waste and encourage others to do the same.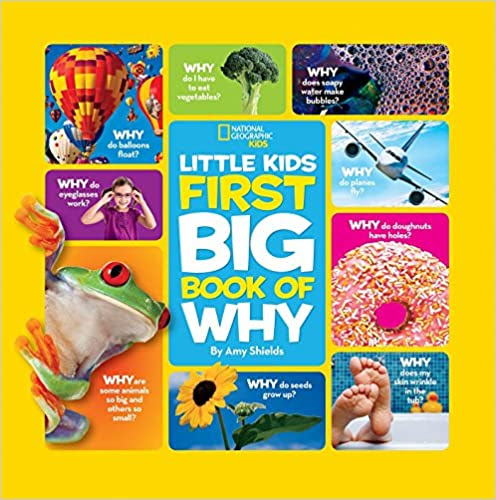 Nat Geo Kids
isbn 978-1426307935
Pub Date 5/10/11
Synopsis
Linking to a popular feature in the super successful National Geographic Little Kids magazine, this book brings the browsable fun of the bestselling National Geographic Kids Almanac to a new audience: preschoolers!
Using an interactive question-and-answer format and content grounded in a child's immediate world, the Big Book of Why delivers lively information, hands-on games, simple recipes, crafts, and more.
What makes a car go?
How does mushy dough become a crispy cookie?
What does the doctor see in my throat?
An essential parent reference, The Big Book of Why invites children to ask big questions, think big thoughts, and get answers that are accurate, engaging, level-appropriate, and based on sound educational findings.
It helps prepare preschoolers for school in an interactive way — the very best way to foster learning at this age, according to research.
Highly photographic and playful, this big book is an adventure in exploration.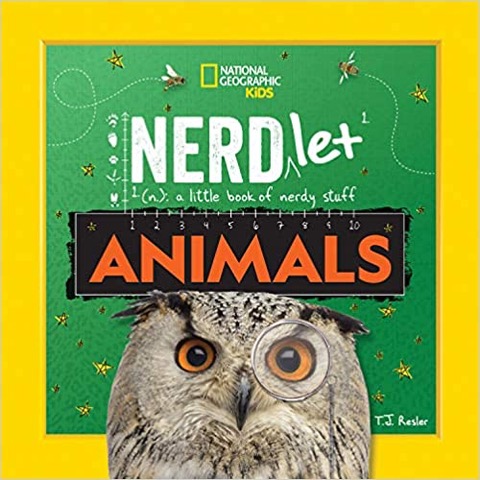 Nat Geo Kids
isbn 978-1426338724
Pub Date 9/15/20
Synopsis
Sometimes big nerdiness comes in a small package–and this little book is an animal nerd's dream!
In this little animal "Nerdlet" you'll learn about the weirdest, coolest, most amazing creatures in the animal kingdom–and what makes them so complex.
Plus, you'll have some of your most burning animal questions answered, such as What's the deal with crocodile tears?
And you'll meet people who get to be around animals for a living and travel to animal destinations around the world.
You'll also find personality quizzes, fun facts, animal superheroes, and even a Star Wars reference … or two.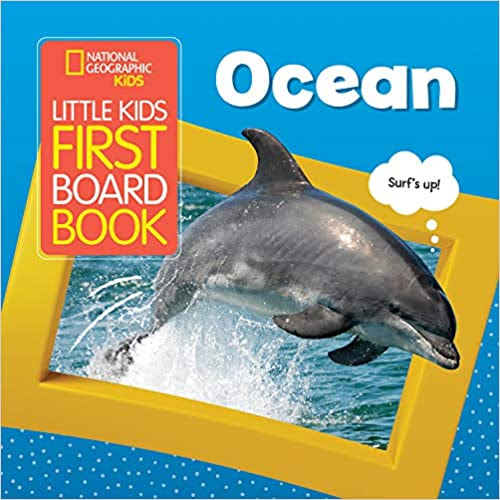 Nat Geo Kids
isbn 978-1426334689
Pub Date 10/29/19
Synopsis
Stunning photos of whales, dolphins, sharks, octopuses, clownfish, and other sea animals introduce the very youngest explorers to the wonders of Earth's ocean, from its depths to its shores.
These sturdy pages showcase ocean life with amazing photographs.
There aresuper simple facts, and lively, age-appropriate language to keep babies and toddlers–and their grown-ups–fascinated by every colorful page.
Books for Curious Kids
The Coolest Stuff on Earth, NG Kids Why?, National Geographic Kids Almanac 2021, Little Kids First Big Book of Why, Nerdlet: Animals, Little Kids First Board Book: Ocean (arv $88)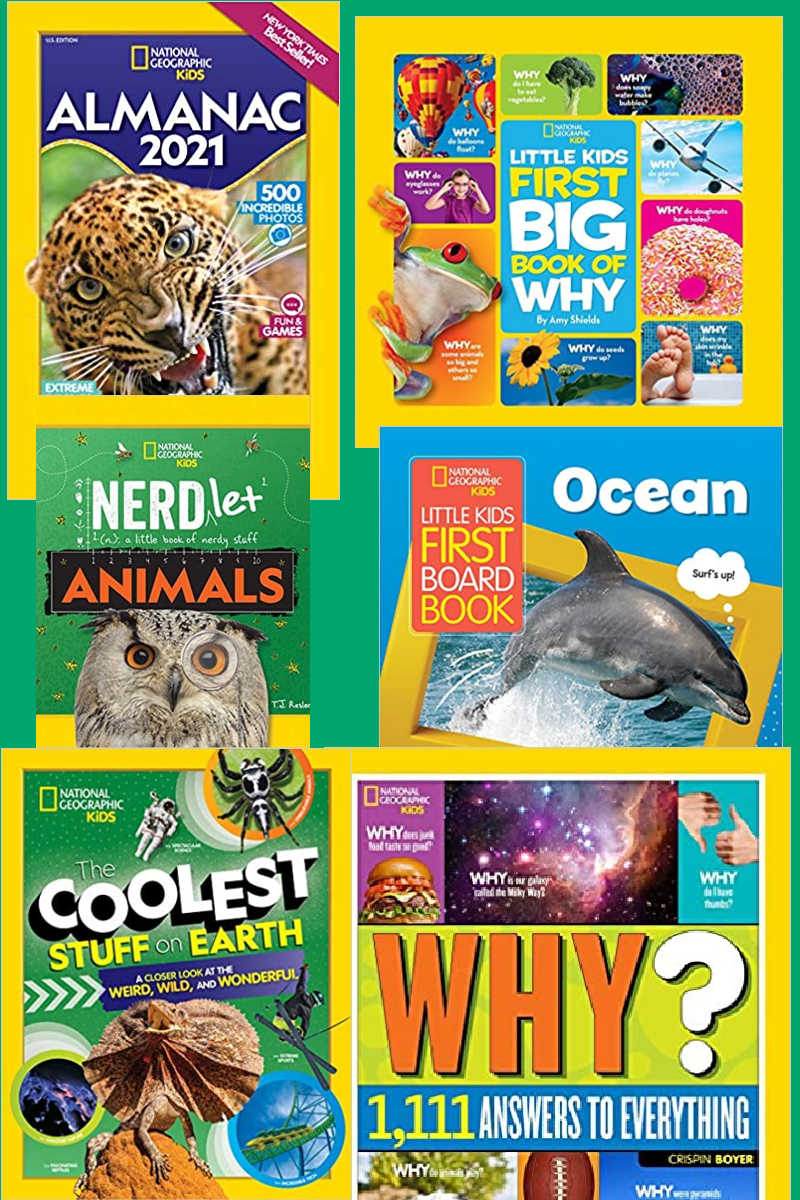 More from Mama Likes This
Take a look at my other entertainment articles, so you can keep up with the latest TV, movie and book news.
Check out my free printables., when you are looking for activities to do at home.
Many are from Disney and Shout Factory, so they feature movies, TV series and characters that your kids already know and love.
Some are educational and some are just plain fun.
There are coloring pages, crafts, word puzzles, mazes, memory games and other family friendly activities.