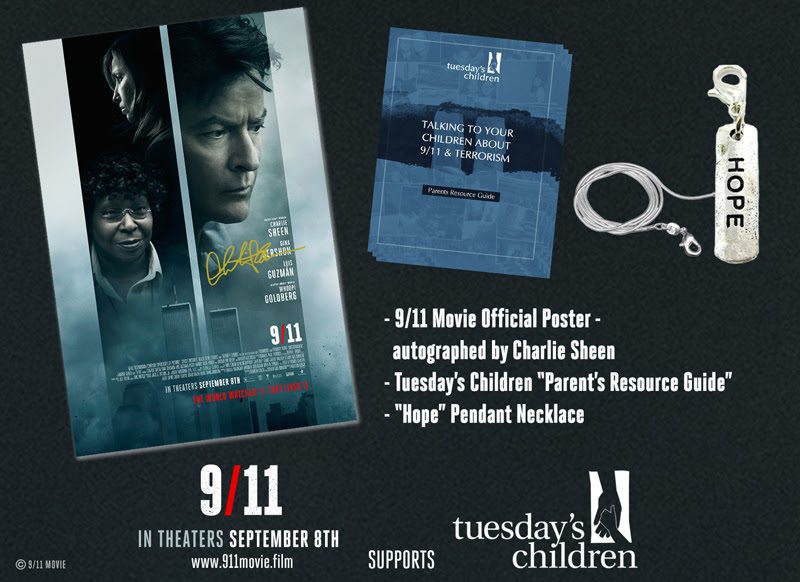 Do you remember where you were on 9/11?
I can remember taking my kids to school that morning here in California and staying with the other parents to watch the horrifying events unfold on the TV in the teacher's lounge. The following day our little boys wore their Scout uniforms to school and led a ceremony and moment of silence in front of the school's flag pole. It was heartbreaking to view the events from across the country and it's hard to really understand what it was like for those who were there.
This September there is a brand new movie about 9/11. It takes a look at the day through the eyes of individuals. It looks as if this method of telling the story will help viewers who weren't there that day gain more of a personal understanding.
Check out the movie blog app below for information about 9/11 along with interviews from the cast of the movie – Charlie Sheen, Gina Gershon and Luis Guzman.
As a special promotion for the movie release, I have a prize package to give away to one lucky reader. it includes:
9/11 poster Hand Signed Autographed by star Charlie Sheen
"Hope" Pendant with necklace
Guide to Talking To Your Children About 9/11 thanks to Tuesday's Children
Visit the official 911 Movie website for more information.
Enter daily through the Rafflecopter giveaway form below: