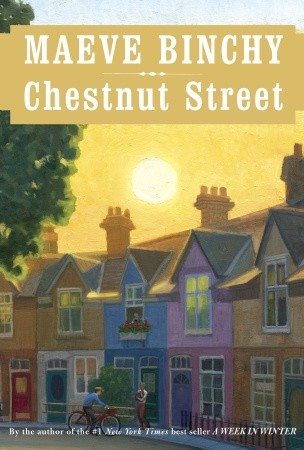 Chestnut Street is a fascinating and unique book!
Maeve Binchy was an Irish author who penned many best sellers. She passed away in 2012 and left behind a collection of short stories that we can now enjoy.
This gifted storyteller imagined a fictional street in Dublin with a variety of characters. She would write short stories about the people on Chestnut Street. She may have intended to use these stories as a basis for a novel, but they stand on their own as heartwarming looks into the lives of others. The collection fits well in one volume, but it's possible to pick it up and enjoy reading any story out of order.
The story length is perfect for those who want the feel of a great novel without that kind of time commitment.

Chestnut Street

by Maeve Binchy
isbn 978-0385351850
Pub. date 4/22/14
Description: "Behind their closed doors, we encounter unforgettable characters brought to life in Binchy's inimitable style, like Bucket Maguire, the window cleaner, who must do more than he bargained for to protect his son; Nessa Byrne, whose aunt visits from America every summer and turns the house–and Nessa's world–upside down; Lilian, the generous girl with the big heart and a fiancé whom no one approves of; Melly, whose gossip about the neighbors helps Madame Magic, a self-styled fortune-teller, get everyone on the right track; Dolly, who discovers more about her perfect mother than she ever wanted to know; and Molly, who learns the cure for sleeplessness from her pen pal from Chicago."
CONNECT – You can like Maeve Binchy on Facebook.
Enter daily through the Rafflecopter form below: