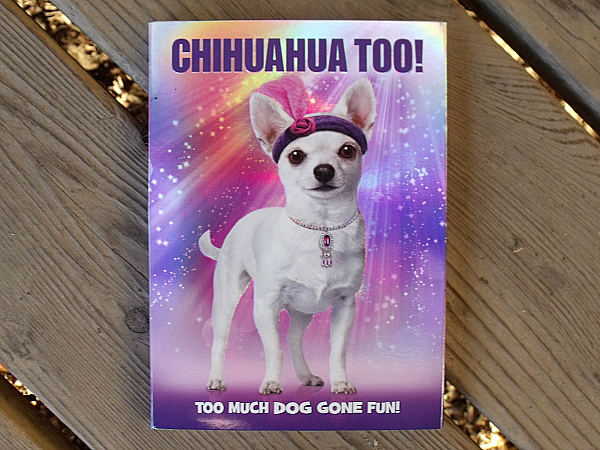 Chihuahua Too really is 'too much doggone fun!'
When I was a kid, I always loved watching animal movies – especially ones where dogs were the star of the show and took on human characteristics like talking. Naturally, I still think of pets as being 'almost' human and talk to mine every day. I'm sure they are also talking to me, even though I can't hear it.
The DVD features a loyal, wise and cuddly golden retriever and a beautiful, former actress chihuahua who happens to be a ghost.
Both of the dogs are fun to watch. The movie is heart warming and humorous. There are also some good life lessons to be learned as kids (and sappy adults who love pets) are entertained by this adorable movie.
Chihuahua Too

Too Much Doggone Fun
Release date 8/13/13
Synopsis: "When the Fasteners inherit an old family vacation home, they soon realize it's being haunted by their ancestors' famous movie star dog, Sophie. Homer, the Fastener's golden retriever, befriends Sophie and discovers that she is just looking for a family to love. Now it's up to Homer and the Fastener kids to convince their parents that Sophie really exists and keep them from selling the house and leaving Sophie alone forever. Will Sophie finally have a family again? Find out in this hilarious tail-wagging adventure featuring lessons about acceptance, cooperation and honesty."
CONNECT – You can follow Entertainment One on Twitter.
Enter daily through the Rafflecopter form below: