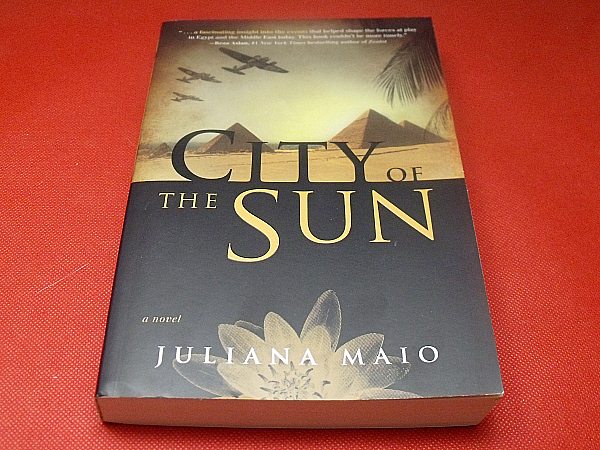 City of the Sun is absolutely fascinating. The novel is fictional, but the author has researched both history and current events well and has tied them into the story vividly.
This is the debut novel from Juliana Maio, but it did not happen overnight. She has been researching for over 13 years. Her personal passion for the subject is due in part to her own Egyptian and Jewish heritage.
Even though there are regular news headlines about Egypt, Israel and Palestine, most of us have a limited knowledge of the history of the region and how these centuries old conflicts directly impact current events.
This work of fiction weaves past and present together in an adventurous and mysterious way. The story is entertaining and a good reminder that life and individual people are often complicated.

City of the Sun

by Juliana Maio
isbn 978-1626340510
Pub. date 3/11/14
Description: "CAIRO, EGYPT 1941. As the Second World War rages, the city known as "Paris on the Nile" plays host to an international set who seem more interested in polo matches and swanky nightclubs than the Germans' unrelenting advance across North Africa. Meanwhile, as refugees, soldiers, and spies stream into the city, the Nazis conspire with the emerging Muslim Brotherhood to fuel the Egyptian people's seething resentment against their British overlords. Ambitious American journalist Mickey Connolly has come to Cairo to report on the true state of the war. Facing expulsion by the British for not playing by their rules, he accepts a deal from the U.S. embassy that allows him to remain in the country. His covert mission: to infiltrate the city's thriving Jewish community and locate a refugee nuclear scientist who could be key to America's new weapons program. But Mickey is not the only one looking for the elusive scientist. A Nazi spy is also desperate to find him—and the race is on. Into this mix an enigmatic young woman appears, a refugee herself. Her fate becomes intertwined with Mickey's, giving rise to a story of passion, entangled commitments, and half-truths."
Enter daily through the Rafflecopter form below: